Posted on
SVGS student wins 'So You Think You're a Genius' game show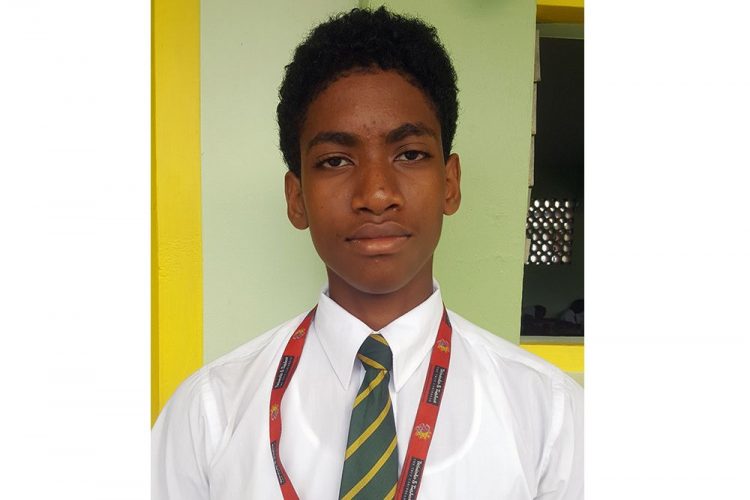 Delaan Nedd is the winner of season two of Massy Stores, "So You Think You're a Genius" game show.
Nedd, a fifth form student at the St Vincent Grammar School (SVGS), went head-to-head with seven other students to take the top spot. He defeated the Girls' High School's (GHS) Aneka McMillan in the final leg of competition.
"I feel good to have won," Nedd commented on Monday.
The soft-spoken young man walked away with a grand prize of an EC$1,000 Massy Stores scholarship, a Samsung tablet and EC$1,500 in school supplies for his school, compliments Budgmart, Tus-T Water and Jujube.
The other participants were Angelica Adams of the Thomas Saunders Secondary School, Shanta Daniel of the West St George Secondary School, Odanno Duke-Collins of the Bethel High School, Nekeisha Sutherland of the St Joseph's Convent Kingstown, Tessa Mills of the Intermediate High School and Alexis Browne of the St Joseph's Convent Marriaqua.
Explaining how the competition was organized, marketing assistant at Massy Stores Akene Keizer said eight students were chosen by their schools and they went head-to-head in a game show competition every week for six weeks, where they matched wits to determine who was the smartest.
The competition was hosted by Shevrelle "Candy Man" McMillan and saw students accumulating points every week. The two students with the most points, Nedd and McMillan, competed in the final round, with Nedd emerging victorious.
The episodes were aired on SVG TV on Sundays from 7 p.m. to 7:30 p.m. between July 17 and August 23.
Students were rewarded by Vita Malt and Facey (Orchard), while they were also given Massy Stores vouchers.
Season one was won by Lynallia Isaacs of the Thomas Saunders Secondary School (TSSS).