Posted on
St James Medical College makes donation to Dominica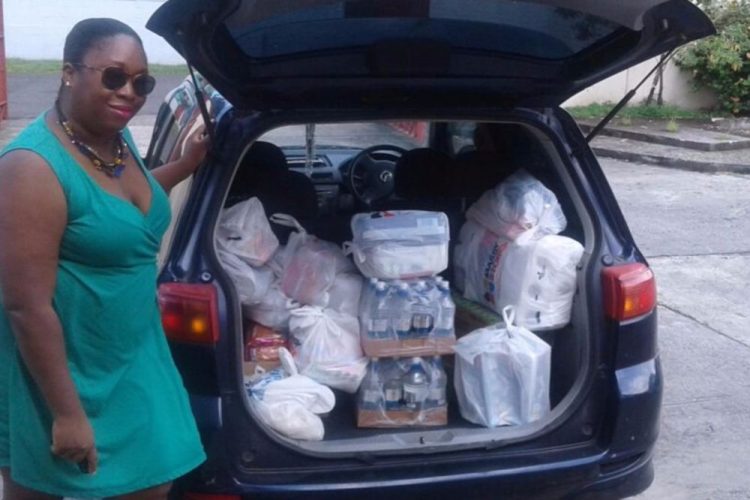 Students of the St James Medical College have contributed to the Dominica hurricane relief effort.
Last Friday, October 6, the students handed over the proceeds of their Can Drive to fashion designer and events manager Kimya Glasgow to donate to Dominica Hurricane Relief.
The idea was that of student Gavin Randhawa of GIVE, a club at Saint James School of Medicine, St Vincent, that serves the Vincentian community, through community service. GIVE club members decided to put their efforts together to find a way to help those affected.
They had first made inquiries after getting information about a fund-raising event where Glasgow had partnered with Leo Club St Vincent to raise funds for hurricane relief for islands affected by earlier storms.
GIVE members Katie Aliaga, Edward Akinyemi, Arielle Freeman, Michelle Kruger, Gavin Randhawa and Jatia Sylvester quickly set up a three-day hurricane relief effort for Dominica, and asked the student body at the St James School of Medicine, Saint Vincent campus, to donate what they could.  
Donations poured in immediately, with goods worth over EC$300 and monetary donations of approximately EC$300 towards the purchase of additional goods.  Goods purchased and donated included non-perishable canned foods, candles, matches, toiletries, baby products and foods,
toiletries, water and more.
The donated goods were delivered by Glasgow on October 9 to NEMO for the next shipment to Dominica on behalf of the Saint James School of Medicine.
There is a plan by GIVE to further partner with Glasgow on a fund-raising Latin Night event to raise more funds to meet the ongoing needs of Dominica's recovery.
"I am so pleased and honoured to have been chosen by the members of GIVE with this noble task. It is amazing how a small idea can spark good things and that working together can produce so much good for others, especially at a time like this, when our island neighbours have been so badly affected. Every bit helps. Thank you St James School of Medicine," Glasgow said.