Posted on
Members of Parliament show appreciation to outgoing AG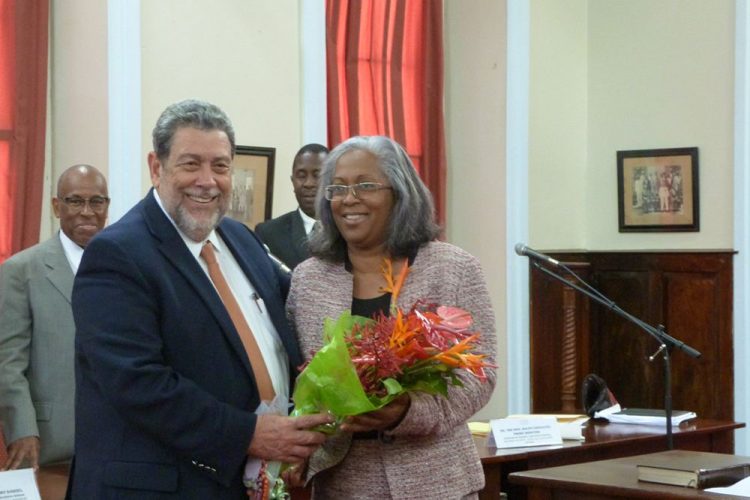 Judith Jones-Morgan, the longest serving Attorney-General in the state of St Vincent and the Grenadines (SVG), has stepped down amidst high praise and gratitude from Members of Parliament.
On the agenda of Parliament on October 5 was the recognition of Jones-Morgan, who has surpassed any other previously in the post with a nearly 17-year term in office.
Several Ministers of Government and the Prime Minister himself rose to acknowledge what the former Attorney-General (AG) had achieved during her tenure and the ease with which she did so.
Not only is Jones-Morgan the longest serving AG to date, but she is also the only woman who has served in the position.
Minister Camillo Gonsalves, Minister of Economic Planning, spoke on Jones-Morgan's contribution as a woman in Parliament in his speech, noting, "It is unfortunate that the presence of women in this honourable House has been drastically reduced by her departure, not only as in numerical terms, but because she brought such a very strong sense of women's issues, women's concerns and affairs, that informed all of her legislative work."
Jones-Morgan was also lauded for her unwavering dedication to her work, as evidenced by the trail of successes she is said to have left behind.
"Judith Morgan is a wonderful person who threw her whole heart, mind and body into her work and always drove for excellence," declared Sir Louis Straker, Deputy Prime Minister.
In addition to 400 statutory rules issued in the time of the former AG, Prime Minister Dr Ralph Gonsalves stated that she has not been inactive on the legislative front.
"On Mrs Jones-Morgan's watch as Attorney-General, in excess of 325 original enactments… and over 100 amendments were prepared and passed in Parliament."
Minister Camillo Gonsalves, also commenting on her extraordinary work ethic, stated that she is "the only person to read word for word, every single word, of every single bill of those… that were passed," when she was AG.
Jones-Morgan is also the only person since Independence to come into the role of AG not as a politician/minister, but as a public servant, which the Prime Minister says is vital for the efficiency of the role of AG.
"Indeed, every Attorney-General other than Mrs Jones-Morgan in our country since Independence October 1979 has held that office as a minister. Each of these gentleman of high quality, experienced and very learned in the law became inextricably entwined in debilitating political controversies, which shackled and eventually undermined them in their role," the Prime Minister said.
Those of the speakers who had the opportunity to work with Jones-Morgan said she was always open to mentoring young lawyers at her chambers.
Saboto Caesar, Minister of Agriculture, said he worked with the Attorney-General at her chambers as a young lawyer and "her company provided a very fertile environment for learning
…and I did learn a lot."
"She has a very keen eye for youth and youth development and this ensured that when young persons come in her chamber that they had to work hard and be dedicated and very steadfast," Caesar further stated.
Camillo Gonsalves, who also commented on his time spent at the Attorney-General's chambers, said one of the roles of the former AG seemed to be "managing the ego of young lawyers," while "training and mentoring those lawyers at the same time."
In expressing his admiration for her, he said, "It has been a true honour to work with her in various capacities, to be tutored and mentored by her and be around this extraordinary woman."
While the AG may be hanging her hat for the time being, it was the general sentiment that those on the Government side of Parliament wished to see her working in some capacity for the state again.
The Prime Minister commented, "At 60 years of age, Mrs Jones-Morgan still has a lot of service left in her.. I have absolutely no doubt that after a short period of rest and recuperation, she is likely to provide yet more service to the Government and people of her adopted homeland, St Vincent and the Grenadines," ending with a resounding, "Thank you, Judith."
None of the Members of the Parliamentary Opposition spoke in recognition of Jones-Morgan's contribution. (KR)