Posted on
Logos Hope to return to SVG after eight years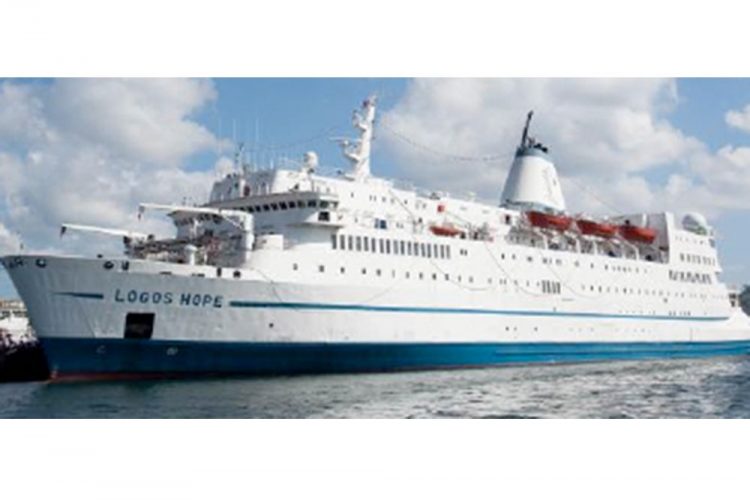 The world's largest floating book fair is coming to Kingstown.
Logos Hope, the world's largest floating book fair, will soon revisit Kingstown, St Vincent and the Grenadines.
"Many may still remember the last visit in 2009, when over 43,000 visitors were welcomed up the gangways during our 14-day stay. Now, Logos Hope will be making another voyage to St Vincent before continuing to Grenada, Colombia and other ports in the Caribbean," a release from the organization said.
Logos Hope will be open in Kingstown from November 23, 2017, and will be berthed at the Kingstown port.
"We are looking forward to the visit to Kingstown. We believe that through our crew's friendliness and hospitality our visitors can experience how people from all around the world can work together in harmony," said Captain Samuel Hils (Germany).
"We're already anticipating being able to share our life stories, as well as the experience of the bookfair and International Café, with many who will come and visit. Welcome on board!"
Logos Hope's onboard book fair offers an expanded selection of over 5,000 different titles of books at affordable prices. They cover a wide range of subjects, including science, sports, hobbies, cookery, arts, medicine, and languages.
"With children's titles, academic texts, dictionaries, atlases and more, the book fair is something the whole family can enjoy. The rest of the Visitor Experience Deck is also open for the public to explore, from the Welcome Area, which introduces the vessel through a short movie and interactive displays; to the International Café, which has ice cream, drinks and snacks for sale. There's sure to be something for everyone," the release said.
MV Logos Hope is operated by GBA Ships e.V., an international, charitable organization registered in Germany. Since 1970, the organization has welcomed over 45 million visitors up the gangways in over 160 countries and territories around the world.
MV Logos Hope will open to the public at Kingstown port from November 23 through December 3, 2017. Opening hours are: Tuesday through Saturday: 10 a.m. – 9 p.m. Sundays: 2 p.m. through 9 p.m. Closed on Mondays.
Entrance fee is 2 XCD per person. Adults 65 and over enter for free. Children under 12 years old enter for free, but must be accompanied by an adult.