Posted on
Students conclude that love of money is a root of evil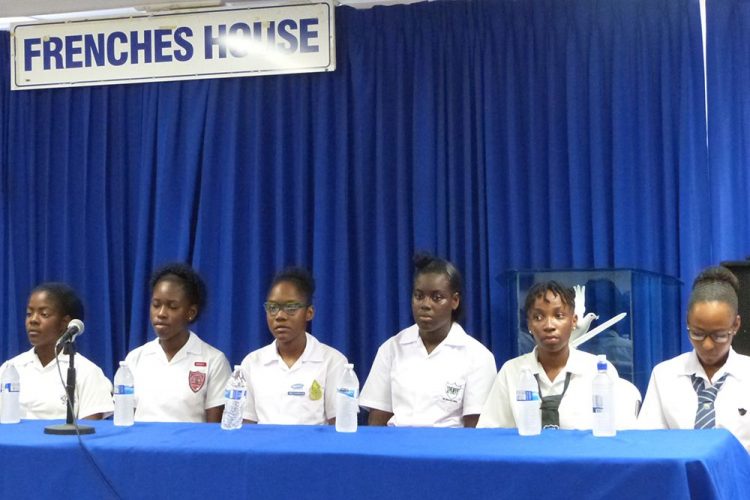 The love of money is indeed a root of evil in society.
This is the conclusion of six secondary school students who competed in the first preliminary of the Lion's Club South Public Speaking Competition, last Tuesday.
The preliminary round took place at Frenches House and saw speeches given by representatives of the St Vincent Girls' High School (GHS), Bishop's College Kingstown, Dr JP Eustace Memorial Secondary School, St Clair Dacon Secondary School, Union Island Secondary School and the St Joseph Convent Kingstown.
All students spoke emphatically on the topic with the near resounding consensus being that the quest for money and materialism is a major cause of the decline of morality in society.
Zoe Porter of the GHS held that virtues which society once held dear, such as "ambition, respect, temperance, and humility," are being replaced by the vices of "sloth, envy, greed and pride."
As an example to show the virtue of respect being replaced by arrogance, she referenced a popular dancehall anthem "Big Money Poppin" by Xklusive.
She said the message that is sent "glorifies lying, a gangster lifestyle, prostitution and most of all greed."
According to Porter, "the artiste boasts of not stopping in his quest for money and fame, and that he is willing to do illegal things to get rich."
At the forefront of the speeches of many of the girls was the number of crimes in Vincentian society that are motivated by greed or corruption.
"Violent crimes, especially homicides, increase yearly, in 2015 we recorded 33 murders, in 2016 – 40, and to date in 2017, we have already recorded 33 murders.
"We cannot ignore the words of Prime Minister the Honourable Dr Ralph Gonsalves, who in November 2016 was quoted as linking some killings to greed associated with drug trafficking," said Jozelle Henry of the Bishop's College Kingstown.
Chantonya Thomas of the Saint Clair Dacon Secondary mentioned the recent incident, wherein a young man was stabbed multiple times and almost lost his life, "because the perpetrator of that heinous crime wanted the victim's cell-phone," intoning, "Madam Chairperson, quest for material things – moral decline!"
"Even the perceived upstanding citizens, who are well educated and come from respectable social backgrounds, when placed in a position of authority or influence, sometimes turn out to be proverbial foxes guarding hen houses," proclaimed Dr J P Eustace representative Ranisha Jack, citing an incident in 2014, when a former registrar of the High Court was fined for stealing $21,925 of court funds.
The girls also expressed the belief that society has been replacing God with materialism.
Natasha Questelles of Union Island Secondary beseeched, "Instead of hustling children through the streets to look at mas, why not hurry them through church doors? Instead of hiding from Jehovah's Witnesses, why not welcome them?"
Meliny Hoyte of the St Joseph's Convent Kingstown said "the Easter bunny and Santa Claus" are replacing holidays such as Easter and Christmas, which are supposed to be representative of God. She stated this was all a ruse by society to get people to "want things they do not need [and] to spend money they do not have."
Other preliminaries were held this week.
The names of the students who will go through to the finals will be announced next week and in the words of senior education officer Kay Martin-Jack, who spoke briefly at the event, "may the best school win."(KR)