Posted on
Repair work on Redemption Sharpes road begins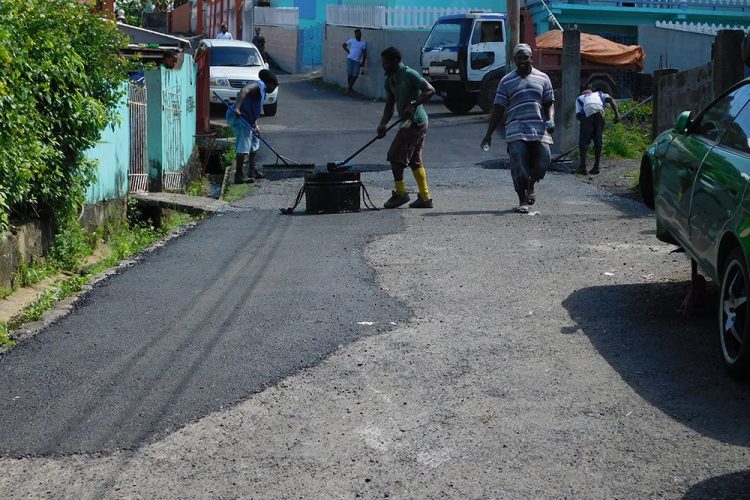 Although repair work on the roads in the Redemption Sharpes area has begun, full minibus service in the area is not expected to resume until today, Friday.
All but one of the 20 minibuses who service the Central Kingstown community withdrew their services on Monday to protest the state of disrepair of the roads in the area.
As promised by Minister of Transport and Works Julian Francis, whom SEARCHLIGHT interviewed on Monday, repair work on the roads began on Tuesday.
Tyrone Barrow, the contractor on the job, told SEARCHLIGHT yesterday that the repairs are estimated to take about three weeks, depending on the level of traffic.
Explaining where work will be done, Barrow said roads in the entire Redemption Sharpes, Trigger Ridge and Hollywood area will be fixed.
"…Coming back down to the flat on the main road…coming cross the ballground road and go back down on the main to Browne's Hardware. And I suppose to do Lodge Village too…," he said.
However, despite the quick response by Government to have the roads fixed, only three of the 21 vans had recommenced work when SEARCHLIGHT visited yesterday.
Richard Bardoo, spokesperson for the striking minibus operators, explained why so few vans were working.
"We wanted to give the road repairers time to fix the road without the intervention of traffic…some of the guys have repairs to do on their vans as well; that's why most of them didn't work."
He further assured residents of Redemption Sharpes that by today, Friday, most of the minibuses would be back on the road.
Bardoo apologized to the people of Redemption Sharpes for the inconvenience.
"On behalf of all the drivers, we are satisfied (with the road works), but are sorry that it had to reach to this stage where we had to strike…because we love the public and the public love us. But we had to do what we had to do because we need it."
SEARCHLIGHT experienced first-hand the inconvenience being experienced by residents of the area.
Now that the road repairs have begun, parts of the road have been blocked off and residents of Trigger Ridge, where repairs are ongoing, have to walk and manoeuvre through potholes and tar down to the playing field to wait for one of the few vans that are operating.(CB)