Posted on
PM encourages Vincentians to focus on positives in society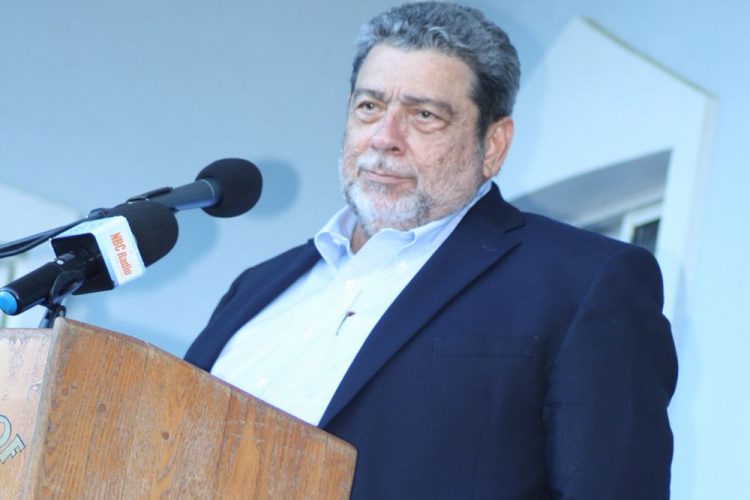 Vincentians have been encouraged to focus on the positives that permeate the society and not allow persons who have ulterior motives to paint a picture of doom and gloom.
These words of advice come from Prime Minister Dr Ralph Gonsalves, who, speaking on Tuesday at Calliaqua, said while lamentations are important, as they recognize one aspect of human reality, persons must also look at the positive realities.
Gonsalves was responding to his political critics, including those associated with the Opposition New Democratic Party (NDP), who have said he is responsible for the spike in killings in the country, which has left 33 persons dead so far for the year.
"Recently there has been much emphasis in the public media and on the Internet on lamentations," said Gonsalves. "Every difficulty, every challenge, is magnified in the quest to put us in a mood, in a mindset, a mental frame, to paralyse us and let us stay in the land of doomsday, the land being the terrain of their heads."
He said persons must focus on the positive and have faith in God, who "has brought us safe thus far and will take us safely home.
"We must do so by combining divine inspiration and human intelligence, human creativity; look around us here today and let those who are prophets of doom and gloom, let them close their eyes to what is before us now," said the Prime Minister, referencing the Calliaqua Town Hall, a building valued at over EC$2 million and designed to provide services to the community.
He said that while persons are highlighting the bad things happening in the country, there are many more persons who are doing good.
"How many persons who go to any of these churches and any other churches do you see line up in the Magistrate's Court and the High Court in Kingstown?" questioned Gonsalves, stressing that there are hundreds of youngsters involved in music and other activities who are staying out of trouble and don't find themselves, "pulling trigger, wielding cutlass and knife."
The Prime Minister named national scholar Stuart Haynes, who now heads the National Insurance Services (NIS), general surgeon Hughes Dougan and lawyer and former politician Dr Linton Lewis, all from the East St George constituency, as representations of "goodness."
"We have to emphasize persons like this and not to get along the path of just negativism and trying to stylize the facts in search of a theory of explanation and I can go on and on," said Gonsalves.
He added that in his opinion, persons want to take particular incidents and blow them out of proportion, but the Government has been working on fixing several of the issues.
"We must not underestimate them and we have to fight and struggle to ensure that citizen security is held aloft and there are several things that we have been doing and several things to be done, including in the family; but at the end of the day, it is a bad-minded fellow who is greedy who wants to make a whole heap ah money in a week, rather than to work hard in accordance with the gifts that God has given to him and which he has developed," said the Prime Minister.
Gonsalves said that we have several thousand Vincentians at home and abroad who are graduates of universities and professionals of one kind or the other and by the year 2030, he expects at least one university graduate, on average, to be in every household and we are on track to achieving this in our 36,000 households.
He said persons are saying that students are being educated and no jobs are available, but it is better to have education and skills than to be stuffed with ignorance, "because that is the most dangerous weapon of mass destruction."
The Prime Minister said that a lot of foolishness is passing for intelligent discussion.
"If you find a pothole, you blow it up, but you don't talk about all the road way (sic) fix. And if you have a choice between filling the pothole in the road and the pothole in the brain, you deal with the one in the brain."
He said that the town hall building, which is positive, was designed by a man from East St George and built by a man from the same community, while the bulk of the workers also came from East St George.
"…and you want to tell me instead that I must embrace the apostles of negativism and those who spout only lamentations and don't talk to me about what is great and good in our land, the decency which resides in the overwhelming majority of our people?
"We have a functioning civilization and no set of gunmen, no set of violent criminals can shake our civilization; we are determined to maintain law and order", said Gonsalves.
He said that while some of the gunmen may not hear his speech, persons who know them should get the message to them.
"It might appear to be the easier path, but it carries enormous risks of jail, serious injury or premature death, try to get out of that business and if we know anybody who is in that business, family members, try and talk to them…we have enough opportunities for training. Let's get these things going; the opportunities are there; you have to take advantage of them", the Prime Minister said.