Posted on
Persons who break 'No U-turn' sign will be taken to court – Police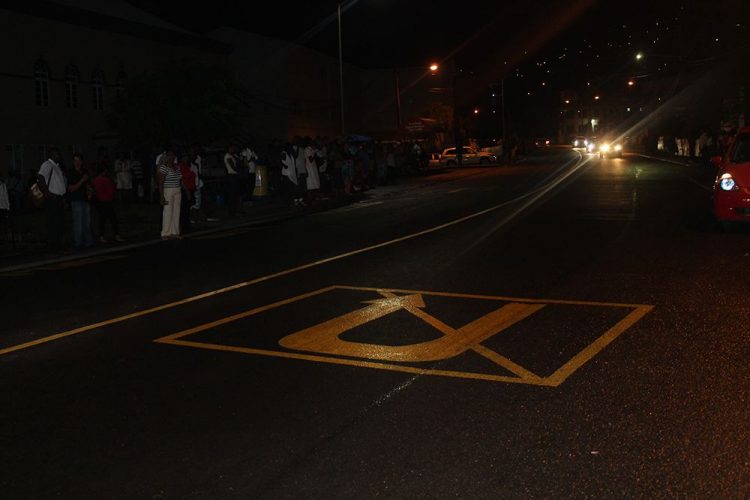 Motorists who insist on making U-turns on the stretch of road between the National Public Library and the Stop Light Restaurant at Richmond Hill will feel the full penalty of the law, once caught.
The Royal St Vincent and the Grenadines Police Force (RSVGPF) Traffic Branch recently painted three "No U-turn" signs on the road in that area.
Station Sergeant Henry Providence of the Traffic Department told SEARCHLIGHT that because of several reports and from the Traffic Branch's observation, motorists, more specifically omnibuses, choose to turn around in that area, especially on evenings, and it is not only illegal, but dangerous.
"Considering all the schools that are in the area and the amount of young students always in the area and the rate at which these omnibuses turn around in the road, we think it was necessary to put some signs to restrict their movement, but in addition to that, we are going to insist that a traffic officer is there to make sure they comply," said Station Sergeant Providence.
He said fines for breaching the no U-turn sign fall under the same ambit of the law, where motorists may be penalized EC$80 through a ticket, or the police could choose to take a driver to court. He, however, noted that a decision has been taken by the Traffic Branch to not issue tickets for the no U-turn offence, but to take drivers to face a magistrate through a summons.
"It is a new sign and it was placed there for a very important purpose, so we are going to take persons to court. Some persons have been ticketed so far, but we will be changing that," said the traffic cop.
He said, in addition, a "No Entry for omnibuses" sign will be placed near the entrance to Frenches Gate. The sign will prohibit omnibuses from entering Frenches via the stretch of road in front of Mills Funeral Home.
The No Entry sign will affect omnibuses from 3 p.m. to 6:30 p.m., but they may still travel up Kingstown Hill at specific times.