Posted on
Students, faculty from Dominica welcomed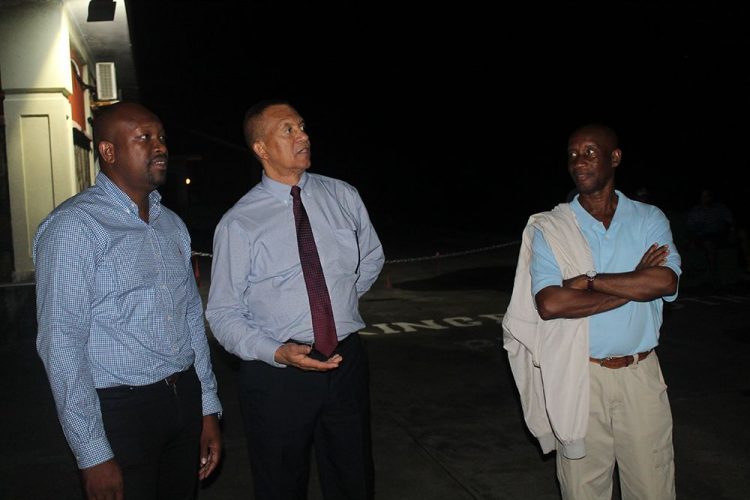 An exodus of medical students and faculty attached to the Dominica campus of All Saints University College of Medicine has taken place.
The exhausted travellers, 282 in number, arrived at the cruise ship berth in Kingstown at about 9:30 on Wednesday night, having left Dominica eight and a half hours earlier.
The journey on board the Liberty, a Martiniquan fast ferry, took two and a half hours from Dominica to St Lucia, followed by a four-hour layover there; the final leg of the journey to St Vincent took two hours.
The group, including one baby, was welcomed by Minister of Agriculture Saboto Caesar, Minister of Tourism Cecil McKie and Minister of Education Jimmy Prince, along with other government officials and personnel from the local campus of All Saints University.
The arrivals on Wednesday, add to the 80 or so students who arrived from hurricane ravaged Dominica by air earlier this week, with more expected on Thursday and Friday.
The move of the students from Dominica to SVG was facilitated by the Government of SVG and represents part of this country's effort to help countries recently affected by extreme weather events.
The students will continue their education at the local campus of All Saints University.
An official of the University told SEARCHLIGHT that all of the students who arrived on the Liberty are Nigerians, as the American, Canadian and Indian students were airlifted out of Dominica by their respective governments. The official said at this point, it was unclear if those students will join the others here in St Vincent.
He said some of the students were about to begin their clinical rotations and may choose to do that elsewhere.
Dr Wisam Al-nhafidh, dean of Sciences at the All Saints University, was present Wednesday night to assist with the smooth resettling of the students.
He explained that given the speed at which the arrangement for housing had to be made, they managed to contact more apartments than was needed for those arriving by boat.
"We have managed to contact more than the number we need. We were expecting 400, but we couldn't make it to 400, [but] for 282, we can manage."
He said the landlords were asked to pick up the students at the campus of the University at Arnos Vale.
Minister Saboto Caesar said the students will be housed in apartments in an area spanning Campden Park to Argyle.
Although the students' move to St Vincent is temporary, officials estimate that they will remain here for at least one year.
"I don't expect they will be going back to Dominica in less than a year," said Dr Al-nhafidh.
"There is no firm timeline as to when the works [in Dominica] would be completed because it is an ongoing process, as we were advised, and that has to be in the context of general works which are expected to take place in Dominica over the next few years," said Minister Caesar.
Dr Angelika Ivasenko, who taught Basic Sciences in Dominica and was one of the faculty members who arrived by boat, explained that in Dominica, it was tough and scary and not much external help was received, even up to five days after the hurricane had hit.
She was, however, optimistic about her sojourn in St Vincent.
"I expect a warm welcome here."
The All Saints University is established on only two Caribbean islands, St Vincent and Dominica.
St Vincent is also expected to welcome 70 students from the St James University in Dominica who will continue their education at the St James University at Arnos Vale.(LC/CB)