Posted on
Homicide will affect our revenue – small business operators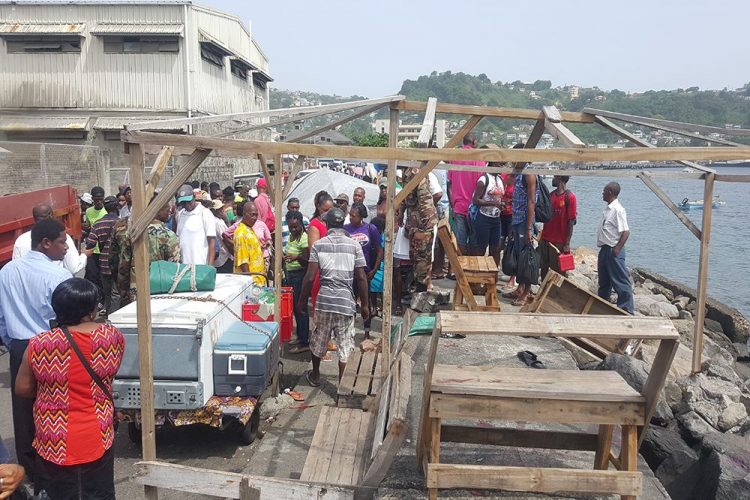 by Crystal Bacchus
Some small business operators outside the Leeward Bus Terminal feel that a homicide which occurred there recently will affect their revenues.
On Monday, three persons were shot along the seafront road leading to the Leeward Bus Terminal, at one of the many small business stalls established there. One person died on spot and the two others are recovering at the Milton Cato Memorial Hospital. The incident occurred around 1:30 p.m.
Many persons use that route to get to and from the bus terminal.
Within one hour of the shooting, SEARCHLIGHT spoke to some of the individuals who run businesses there.
While one businesswoman said the shooting would not affect her business, another individual objected to her response.
"It ain't must affect? Cause you have to realize that people going 'fraid fuh lime,'" a male bystander said.
Another owner said what happened that day did not scare him, because he had witnessed other homicides. He was, however, adamant that Monday's incident would indeed affect his business.
"Not might; it will! For the time, almost an hour, you know the amount me done lose?" he said, referring to the time that had elapsed since the shooting.
Some of the persons interviewed by SEARCHLIGHT, who appeared to be shaken up and shocked, described what they did when the shooting began.
One woman said "..But me run deh so, me nah hear nothing, ah under the table me run with me grand pickney. Under deh me run go. Me pull um off ah de table."
Another recalled, "When I heard the shots, I thought it was something drop, but den I heard five to six bullets after that and I saw people running and bawling fuh murda. I couldn't move from here.
"Everybody run from dem business place, but I had him sleeping (pointing to a child about three years old), so I just throw meself on him, 'cause I don't know whey it coming from."
The vendors asked the perpetrators of violence to behave themselves and for everyone to live well with one another, while some asked for divine intervention.
An elderly individual said, "We need prayer in St Vincent here, and me finish, nothing else."
Others gave their opinions on whether the Government should be blamed for the spike in gun related violence.
"… Dem ah say ah de Government ah do that. De Government can't do dem kinda thing deh. Everybody ha dem own mind. Dem ah ge de Government too much ah blame. Every shoot ah de Government, serious."
Another bystander agreed.
"It can't be de Government fault. Is de mind of the youngsters you know. Can't be de Government fault. I mean, …I don't like this present Government because I don't get no wuk from dem, but de problem is not the Government, but is de youngsters like dem deh (pointing to a younger male than himself)."
About 20 vending stalls are established along this seafront road.