Posted on
SJCM celebrates 50th Anniversary Thanksgiving Mass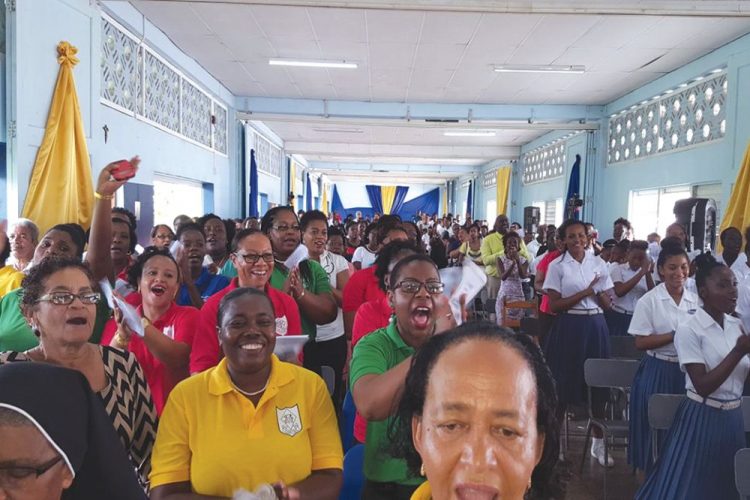 Last Friday, September 15, the St Joseph's Convent, Marriaqua (formerly Marriaqua Secondary School (MSS)), held its Anniversary Mass of Thanksgiving at the school's auditorium under the theme: "50 Years of Love in Service."
The service marked the beginning of a year of celebrations which will culminate with a Cocktail/Awards ceremony on the eve of the school's golden anniversary on Friday, September 15, 2018.
Bishop Gerard County of the Kingstown Diocese was the chief celebrant at the mass. Among the attendees were past and present students, teachers, chief education officer (ag) Beverly Neptune, well-wishers and friends.
Principal of the school Sr Jacinta Wallace welcomed the gathering. Scripture readings were done by past and present teachers and students, as well as the Gospel reading by Deacon John Defreitas. The homily was presented by past student Fr Vibert Stephens, while prayers and the offertory procession were led by representatives of the various support structures of the school. Cameisha Hunter gracefully rendered her choreographed dance to the offertory hymn "Take Lord, Receive". The offering was dedicated to our brothers and sisters in the Virgin Islands in the aftermath of Hurricane Irma.
The first ever Past Students Choir rendered as meditation the song "Thank You Lord for One More Year." The choir was ably directed by past student/past teacher Calma Balcombe. Sr Maureen Alexander, SJC's newly appointed provincial superior and past principal offered congratulations and words of encouragement to MSS/SJCM.
Following the ceremony, a contingent of past students, along with Fr Vibert, Sr Maureen and Sr Jacy, paid a home visit to Gillis "Gitt" Francis, former teacher and mathematics icon, who served with distinction at the school from its inception.