Posted on
Readers of Searchlight Midweek edition rewarded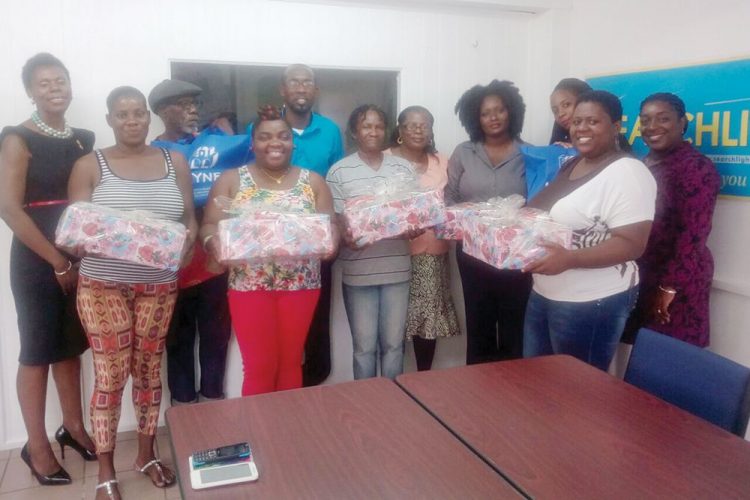 Interactive Media Ltd (IML), publishers of SEARCHLIGHT, continues to demonstrate a strong sense of corporate social responsibility. 
On Thursday, September 14, representatives of the company, with the assistance of Evandie Franklyn of Randy's Supermarket and Ellis Davis of ED Layne and Sons Ltd, handed over seven disaster preparedness kits to readers of the Midweek edition of SEARCHLIGHT.
The two hardware kits went to William 'Kojah' Anthony of Peter's Hope and Britney Francis of Vermont, while the five food kits went to Donna Weeks of Glen, Kishan Rodney of Greiggs, Sue-Ann Christopher of Gomea, Melsada Francois of Redemption Sharp and Synika Wilkes of Biabou.
Speaking at the handing over ceremony, which was held at SEARCHLIGHT's office at Lower Kingstown Park, IML's Marketing and Advertising executive Karen James said the company is increasing its community outreach efforts.
James commented that she sees this initiative as a win-win for all involved, as the sponsors of the initiative stand to gain a competitive advantage and attract attention; the relationship between the businesses and their patrons is enhanced and the business to business relationship is also strengthened.
Speaking on behalf of Randy's Supermarket, Evandie Franklyn said Randy's is a people focused business and they were happy to give back to people who have supported them over the years. Ellis Davis said ED Layne and Sons was pleased to have had the opportunity to partner with SEARCHLIGHT to give back to the community.   
One hundred and nineteen readers participated in the promotion. The winners expressed how shocked, elated and extremely grateful they were to have won. 
Some of the winners commented that the package could not have come at a better time and hoped that the give-away would become an annual promotion.
The disaster preparedness promotion was a new addition to Searchlight's annual Disaster Preparedness Feature that was published on July 7 this year.
James said the public can expect more community focused initiatives from SEARCHLIGHT in the future.(KJ)