Posted on
AUS School of Medicine Holds 14th White Coat Ceremony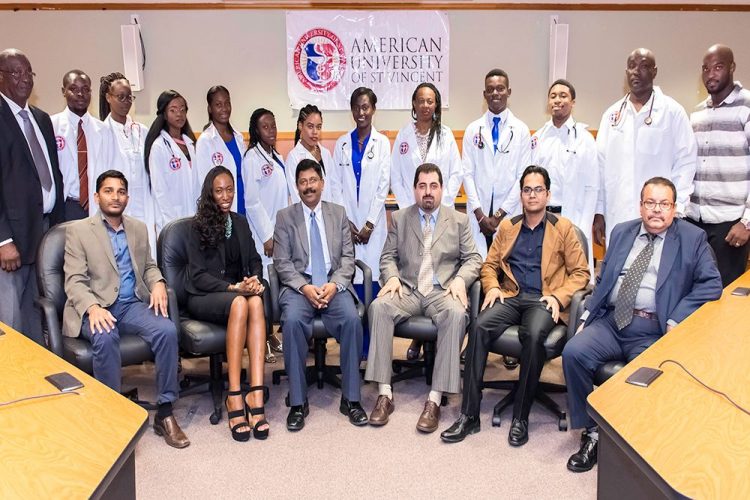 It was another momentous occasion for the students of the American University of St Vincent (AUS) School of Medicine, as 12 multinational medical students donned their white coats at the institution's 14th White Coat Ceremony.
The aspiring physicians from Nigeria, Ghana, Cameroon, Jamaica and St Vincent and the Grenadines (SVG) beamed with joy and had a sense of pride, as they were formally introduced to medicine as a career at a ceremony held on Friday, September 8, 2017 at the National Insurance Services building.
"White coat recipients, your presence at this White Coat Ceremony and your agreement to embark on a career of medicine signify your commitment to the field. This is not merely a job, but rather it is a commitment to individuals, populations and even the country in which you will serve," said assistant professor and dean of Student Affairs at AUS, Dr Shakel Henson, who gave an address on the significance of the white coat.
Dr Henson warned the students to refrain from taking advantage of their position as medical students and later on as doctors, as they are expected to serve their patients and should never engage in actions that will compromise that doctor-patient relationship or lose the trust of their patients.
Welcoming the aspiring physicians into the MD programme was the dean of Basic Sciences, Dr Dommalur Jayarangaiah. Dr Jay stressed the need for these new students to develop a good attitude, as this will help them to better manage the great responsibility that lies ahead.
Having donned their white coats, the budding physicians recited the Hippocratic Oath.
This special occasion, the White Coat Ceremony, was witnessed by management, faculty staff and students of AUS, as well as family and friends of the white coat recipients.
The closing remarks were delivered by the Pre-med coordinator, Kenroy Johnson. He congratulated the students on their decision to take up the challenges of medicine and for wanting to embark on such a noble career.
New students, enrolled in the Pre-medical programme, were also present at the ceremony. These students hail from Zambia, Nigeria and SVG.
First established in 2012, the AUS School of Medicine is a medical school that is located at New Montrose, St Vincent and the Grenadines. It is a registered institution, which has been registered by the National Accreditation Board of St Vincent and the Grenadines. Additionally, it is recognized by the World Health Organization. (contributed by Dr Shakel Henson)