Posted on
SVG receives two ISA 40-foot LPG tanks from Curacao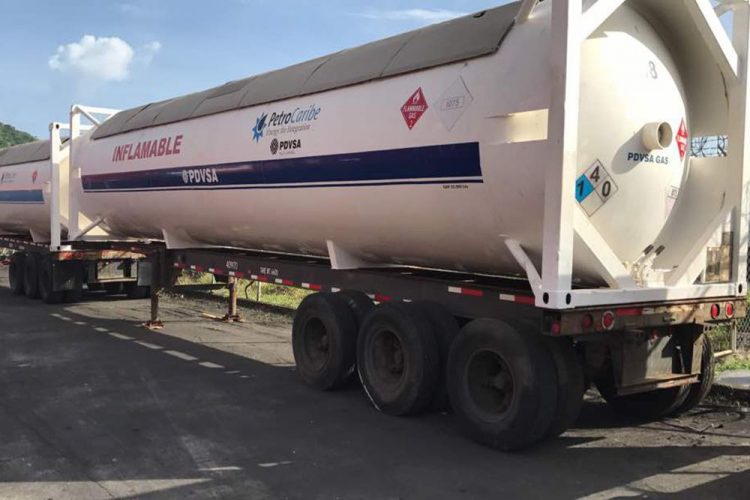 St Vincent and the Grenadines (SVG) now has two ISA 40-foot LPG tanks to transport LPG from the fuel storage plant at Lowmans Bay to the LPG filling plant at Campden Park.
The tanks, each of which has a capacity equivalent to 250 barrels, arrived in SVG on September 5 from Isla Refinery in Curacao.
A release from PDV SVG Limited said the ISO tanks were adapted for SVG by PDV Caribe with the support of the technical management of the Isla Refinery and certified by the Lloyd Transnational Company.
"These ISO Tanks will have as their main function; the internal transport of LPG between the 'Hugo Chávez' Fuel Storage and Distribution Plant which has a storage capacity of 2,500 barrels of LPG and the filling plant of cylinders of LPG at Campden Park, which has a capacity of filling up to 20 thousand cylinders of LPG per month," the release said.
With the arrival of these tanks, PDV SVG Limited will increase the storage capacity of LPG for up to six months, reducing operating, freight and administrative costs, helping to improve economies and ensuring the reliable and safe supply of LPG to the people of this country, the release said.
"In addition, it is important to note that the operational flexibility that this equipment will provide will enable PDV SVG Limited to address new business and improve energy supply.
"Finally, this initiative is part of the project to start the 2nd Stage of the 'Hugo Chávez' Fuel Storage and Distribution Plant of Lowman's Bay, which includes the commissioning of two Gas Tanks with a capacity of 5,000 Barrels each, two LPG bales with a capacity of 1,250 Barrel each and one 2,570 Barrel tank for fuel," the release said.