Posted on
80 Trinity medical students inducted at White Coat Ceremony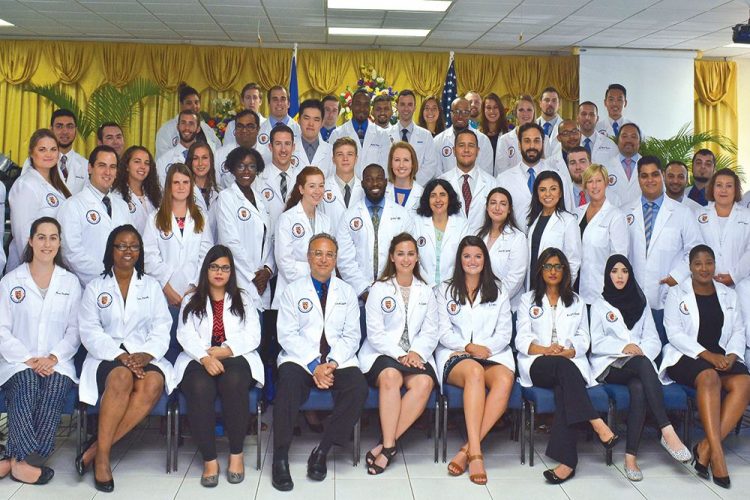 Eighty future physicians joined the student body of Trinity School of Medicine at a ceremony held at the Faith Temple Church on Saturday, September 2.
Eleven of these students entered the pre-medical programme, while the remaining 69 were inducted into the Class of 2021 medical programme and received their white coats.
The prestigious White Coat Ceremony was presided over by Trinity's Dean, Dr Linda Adkinson. In attendance were Governor General Sir Frederick Ballantyne, representatives from the Ministries of Health and Education, parents, relatives, faculty, members of staff and other well-wishers.
President Steven Wilson, in his remarks, welcomed the gathering and introduced a very inspiring presentation in which graduates of Trinity gave testimonials to the incoming students. One graduate gave the advice: "Believe in yourself, keep going, there's a finish line to the race."
Featured speaker Chancellor Dr W Douglas Skelton told the incoming students it is an honour to participate in a white coat ceremony.
He outlined of the origin of the practice, which has become the mark of passage from a student to a student doctor. Skelton stressed the acceptance of the responsibilities and commitments that go with being a physician.
"These are responsibilities and commitments that follow you throughout life," he reiterated, "and if you honour them, you will have a career of creativity and assistance to mankind; but if you dishonour them – as regrettably some physicians have done – you will suffer shame and embarrassment. I don't want that for any of you!"
The future physicians were told that the white coat, even when it is not being worn, still binds them to these responsibilities and commitments as physicians. He expressed the hope that all of them would make a discovery significant to medicine that would be immediately accepted.
"The symbolism of the white coat involves all of us. Remember, medicine is a noble profession and we are all colleagues on a team in support of excellence."
This testimonial was well in tandem with the growth which Trinity School of Medicine has been experiencing within the past two years. Recently, the school has been elevated to the highest level of determined status for all medical schools: "Accredited with Conditions, 2017-2019", by the Caribbean Accreditation Authority for Education in Medicine and other Health Professions, (CAAM-HP). This is the internationally recognized authority for medical school accreditation in the Caribbean, whose standards and practices are modelled on the accrediting authority for United States medical schools, the United States' Liaison Committee on Medical Education (LCME).
By the end of the ceremony, when Dean Adkinson thanked all for sharing in the activity, every medical student on whose shoulders a white coat had been placed left the venue self-assured that they had made the right career choice and that they had chosen the right institution for the journey towards becoming physicians.