Posted on
Police music programme geared to steer youth from trouble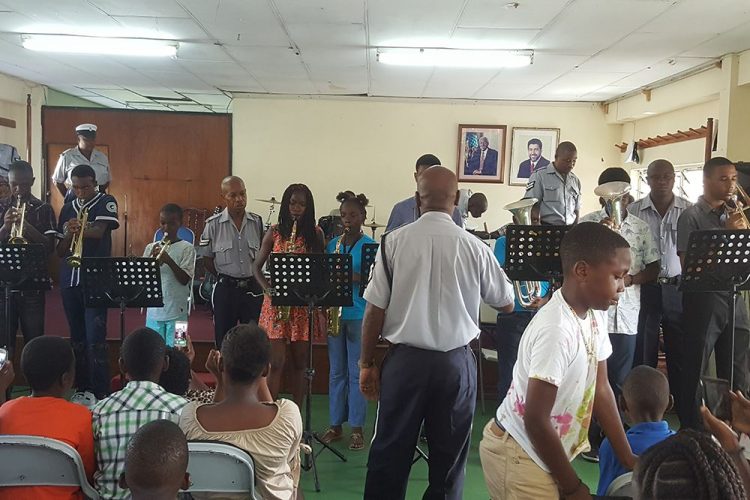 Most persons engaged in criminality are young men, so the Royal St Vincent and the Grenadines Police Force (RSVGPF) continues to look for ways to steer them clear of trouble.
One such initiative is the summer programme of the RSVGPF Band, and this year, it attracted some 133 participants from throughout the length and breadth of the country.
Speaking at the closing ceremony of the summer programme, which was held at the Old Montrose Police Station on August 23, Superintendent of Police Richard Browne said the music programme is part of a wider community policing strategy, as the police try to steer young minds, particularly young men, away from criminal behaviour.
He said the ninth annual summer programme, which represented over four weeks of "overall development of young minds," is of great importance, as the vast majority of persons who get involved in criminal activity are young people.
He said this is proven by that fact that of the 441 persons in prison here, some 183 of them are in the age group 16 to 30. He also noted that most firearms taken off the streets this year were in the hands of youngsters.
Superintendent Browne, encouraging persons to take advantage of the music programme, said it is safe to predict that some of the participants will mature into outstanding musicians and some may even become cultural icons.
Head of the program, Assistant Superintendent of Police Daniel Hall, addressing the usual jam-packed hall, said that at the beginning of the programme, some of the students were timid and lacked understanding of music and confidence, but as time progressed, the negatives were turned into positives.
"They were taught that mistakes, failures, disappointments were necessary components of life and a must to achieve perfection," said Hall, who is urging parents, if they can afford to, to buy instruments for their children.
He said that the summer programme can lead to employment in the police band or other bands, or even employment on cruise ships and other places.
Students were taught how to play the saxophone, clarinet, trumpet, keyboard, drums, steel pan and guitar. At the closing ceremony, the participants did a number of musical renditions with the instruments they learnt to play.
Apart from music, the children were taught about personal hygiene, peer pressure, problems teenagers face in society, self-esteem and character building. They also did tie dye and made ornaments with wine glasses and other materials.  
The programme was introduced in 2008 under Commissioner of Police Keith Miller.(LC)