Posted on
Workers of road cleaning gangs paid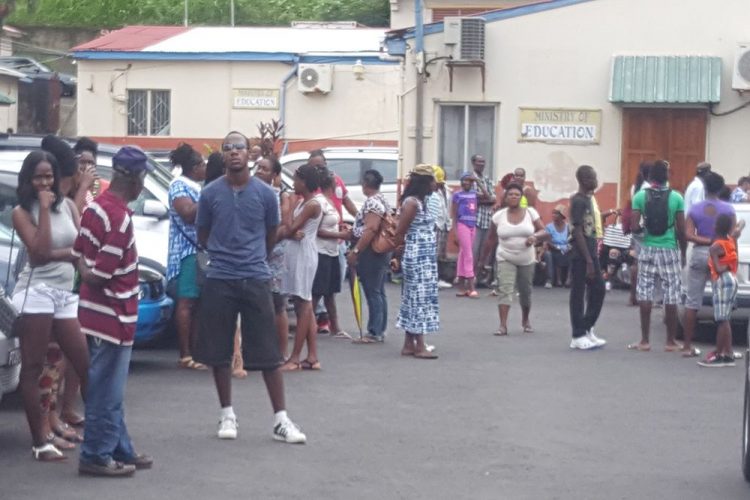 Workers attached to the various road cleaning gangs received their wages earlier this week.
The eight-day road cleaning project was valued at some EC$2.51 million, but this time around, the road gangs were smaller and saw 4,387 persons employed throughout St Vincent and the Grenadines (SVG).
On Monday, Minister of Transport and Works Julian Francis said the rise in minimum wage, which took effect from May 1, saw the road workers being paid more money than usual, but also saw fewer persons employed.
Francis said despite Government employing fewer people due to the rise in minimum wage, the persons employed did quality work.
This phase of the road cleaning programme came to an end on Thursday, August 24.
The May 1 increase in minimum wage (which was also accompanied by a one per cent rise in Value Added Tax) saw a road worker's pay move from EC$36 a day to EC$42, an increase of EC$6 a day. Likewise, the gang driver's pay was moved from EC$40 to EC$46 while the timekeeper's wage also moved from EC$40 to EC$46.
Francis said on Monday during a press conference at the office of the Roads, Buildings and General Services Authority (BRAGSA) on Lower Bay Street that the greater part of the cleaning has been completed and the drains will soon be cleared.
He noted that more work will be carried out by some 500 jobbers who don't work in the gangs and these jobbers will identify areas that will be cleaned. 
"We have to keep the roads clear and in the peak of the rainy season is the right time," said Francis.
Road workers who worked on the Windward side of the mainland were paid on Tuesday and workers who toiled on the Leeward side of the mainland were paid on Wednesday.
"This is the first work programme that falls under the increased minimum wage, so it took more money to put out the same amount of persons," explained Francis, who added that persons should not worry about debris left by the road works, as this will soon be cleared up.
Francis said the issue of debris being left behind to be picked up at a later date has always been an issue for him and he has advised BRAGSA to find a way to remedy this situation.
He said that BRAGSA owns wheel barrows, shovels and brooms and suggested that the 10 persons who make up a road gang could place the debris at a wide area of the roadway on which they worked, instead of leaving the trimmings at various areas.
Francis, however, noted that the trucking away of the debris has improved in South Leeward, but there are areas where the dirt and the bush are still a problem.
He noted that it will be very expensive to pay a truck owner to stay with a slow-moving road gang for the entire day, which is why the debris is left on the road for a brief period. According to the Minister, many of the truck drivers undertake private jobs before they work for the Government, while others have refused to work for the Government at all because of slow or outstanding payments.(LC)