Posted on
SVCB gives back to nation's youths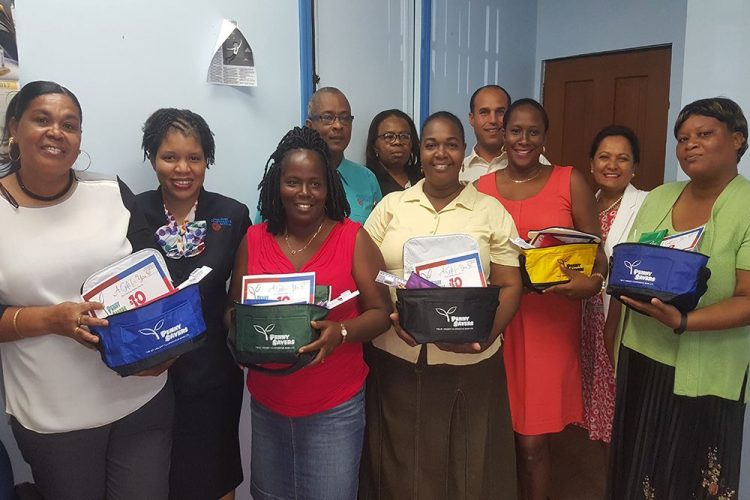 The St Vincent Co-operative Bank (SVCB)/Penny Bank is looking out for the nation's youth.
Thanks to the Penny Bank's back to school initiative, 200 of the nation's needy students from eight primary schools will begin the new school year with a new lunch bag and school supplies. They have also been given the opportunity to open a Penny Savers bank account.
The donation to the students was made on August 29 by the bank's chief executive officer (CEO) Champa Barnes and one of the SVCB's directors, Marcus Ballantyne.
Teachers from five of the eight schools collected the gifts on behalf of the students during a ceremony at the SVCB's headquarters on Bay Street in Kingstown.
Explaining the back to school initiative, Barnes said the donation is so that these students can have their lunch in a proper bag and have school supplies, "to start them off in the right way."
Barnes noted that at the SVCB, the Penny Savers initiative is their signature programme and by giving 200 students the opportunity to have a Penny Savers account, the bank is investing in the young people who are the future leaders.
Barnes also said the SVCB will continue to engage the youths and throughout the month of September. The 200 students from the eight schools will be invited to tour the bank, at which time they will be taught about saving. The students are expected to return with their parents to open the Penny Savers account to which the bank will contribute EC$10.
Director Ballantyne said that the bank takes its social responsibility very seriously and the programme gives needy students the opportunity to have proper supplies.
"More importantly, we are here to create the concept of saving and investment in young people," said Ballantyne, who added that we are a consumer oriented society and there are few people who give young people the opportunity to learn about saving.
Commenting on behalf of the teachers and students, Wendy Bynoe of the CW Prescod Primary School said that the donation was a kind gesture.
"We appreciate the fact that the bank takes its corporate duties seriously and the lunch bag and school supplies will light up the lives of students who really need them," said Bynoe.
Only representatives of the Kingstown Government School, the Chateaubelair Methodist School, the Owia Government School, the Sandy Bay Government School and the CW Prescod Primary School were represented at the ceremony. Teachers present were Sonia Soleyn, Kellyann Hall, Candie Pollard-Sutherland, Annell Francois and Wendy Bynoe.