Posted on
Reconstruction of Ginger Village/ Belmont road to begin soon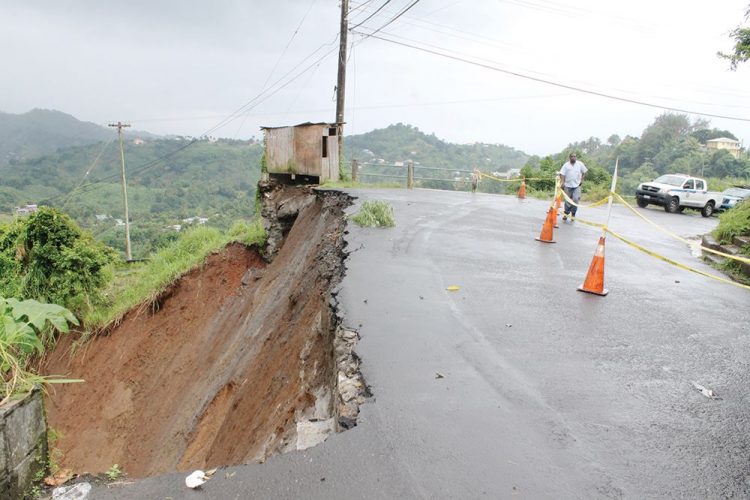 Mobilization money will soon be paid to Dipcon Engineering to begin the reconstruction of the Ginger Village/Belmont main road.
In 2013, the road collapsed under torrential rains, and since then, traffic to and from the Marriaqua Valley has been diverted to a route which is not suitable for heavy vehicular traffic.
On Monday, Minister of Transport and Works Julian Francis said that since September 2016, Dipcon was given the contract to fix the road and now, it seems as if the all-clear has been given by the World Bank for the mobilization money to be paid to the contractor.
He said several conditions had to be met before the money was dispersed and those conditions have been met, so the mobilization money should be released by the middle of September, after which the work will begin.
Francis said the bypass route that is currently being used is not the best and the constant traffic has damaged the road and it needs to be redone.
The Minister added also that funds have been identified for the repair of the Vigie Highway and he is eager for the fixes to be done.
Francis also noted that another part of the road leading to Marriaqua – from Belmont to Crick Corner, has been in a bad state for a very long time and since 2015, a contract to fix it was given to a private contractor, but that contractor seems to have abandoned the job and is giving too many excuses.
Francis said while he blames the contractor, he also blames the staff of the Ministry of Works, because in his opinion, the wrong base material was used.
The Minister of Works added that he is also fed up of excuses relating to why the piece of road between the Milton Cato Memorial Hospital and Gibson Corner cannot yet be perfected.
He said it is heart-rending to work so hard to complete a highway, then to have so many problems and he is hoping to have the problems solved soon.(LC)