Posted on
Morgan continues to give back to Layou youths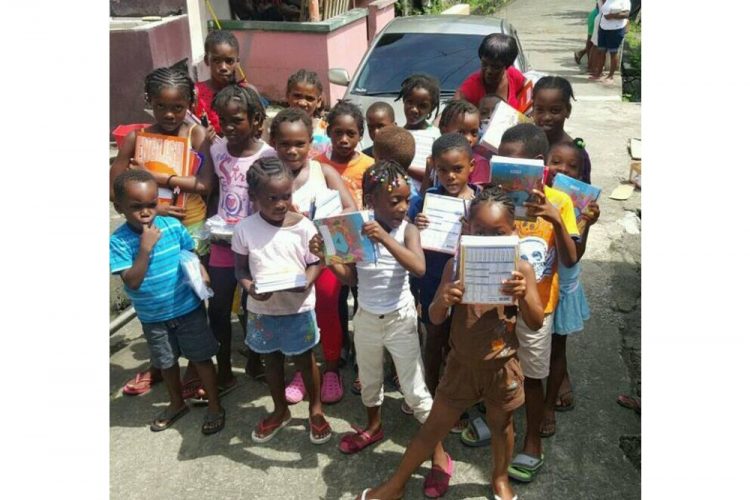 For yet another year, the distribution of school supplies in Layou has brought smiles to the faces of parents and students.
Morgan is a teacher at the Barrouallie Secondary School and a qualified coach. He is the founder of Higher Performance Sports Club, formerly known as "Negative to Positive (N2P)". This club targets the youth from the community of Layou, encouraging and assisting them in sports, education and social development. There are frequent training sessions, field trips, sports tournaments and educational sessions, in all of which these youths are engaged. The holistic development of these children is of top priority to the founder and leaders of this group.
Ten years ago, coach Morgan started on this mission to "give back" to these students as they prepare for school. Things started off on a smaller scale, where he would personally purchase books, pencils, pens and other supplies and walk around to give to these children and parents.
However, over the years, Morgan's good deed has attracted the attention of others, who jumped on board to assist and to broaden this cause. Omar Dopwell and Darren Dopwell, residing in the USA, have both committed themselves to giving back to the community and have donated items. Norrel Hull Jr has also willingly stepped forward to assist Morgan with school supplies. Also, CD Veira Ltd and another company that wishes to remain unnamed have all donated to this project.
The team managed to supply a total of 100 dozens books for primary school children and 20 dozens for students attending secondary schools. These books were also complemented with pens, pencils, erasers and other school items. Recipients of these items are not only members of the club, but parents/students who live in this community were all welcomed to receive.
Morgan believes that sports and education are closely linked and such combination can provide a number of opportunities and benefits for the nation's youths.
In the summer, Morgan was involved in the Team Athletics Summer Programme. He covered Sandy Bay and Layou, with assistance from Danroy Lyscott and Lemus Christopher. He describes the opportunity to share his knowledge with kids as "amazing and fulfilling". Morgan looks forward to helping even more children in the future and building his community and country through sports and education. He says thank you for the support from parents and guardians over the years.(Contributed by Vakeesha John)