Posted on
Featured speaker urges recipients to 'take flight'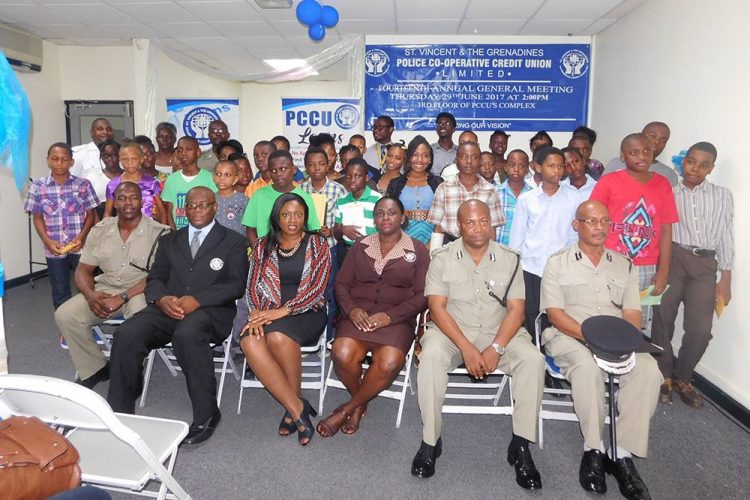 Forty-seven students were last Friday awarded scholarships and bursaries from the Police Co-operative Credit Union(PCCU) and the Royal St Vincent and the Grenadines Police Force (RSVGPF).
President of the PCCU Horace Williams said the PCCU is doing its part in the educational trust in our country. He noted that the organization has been awarding scholarships since 2014. Williams also told the recipients not to take the scholarships for granted, because it is their passport to their future and to do their best at all times.
"Sometimes you will encounter stumbling blocks on your educational journey; when you do, do not give up or give in; persevere and you will succeed, by the help of Almighty God."
Sejilla McDowald, former scholarship holder and featured speaker at the awards ceremony, took the recipients on a plane ride through their secondary education.
McDowald, Crown Counsel within the office of the Director of Public Prosecutions (DPP), told the recipients not to borrow anyone else's dream and to pursue theirs. She also told them to pack perseverance and strength in their luggage.
"Perseverance tells you that you should never give up and strength is what you need for days when you feel like giving up."
McDowald urged the youngsters not to imitate others, but to let their personality shine through. She further told them not to go into secondary school like a turtle.
"Do not be afraid to let people know what you are about; what you like, what you don't like is important because you are an interesting person. Your opinion matters."
McDowald told the students that they have their passports in their hands and to take their flight to the heights of success.
Commissioner of Police Renold Hadaway, in his address, told the scholarship winners not to give up, as the subject matters become more challenging in secondary school. He encouraged them to never be ashamed to ask for help with their schoolwork.
"A more focused attention is required of you, work with others to better understand the concepts if you are having difficulties."
Hadaway stated that the RSVGPF awards over 30 scholarships each year. This year they are offering 37 scholarships, with the PCCU giving 10.
The top cop further told the scholarship winners that staying focused and committed to their school work does not mean they should not play, but rather, strike a balance.
"Do not get engaged in deviant behaviour, patterns; say no to delinquent behaviour, stay away from drugs and remember the values taught by the police officers who were at your schools during the DARE programme. Do not disappoint us; remember you're the sons and daughters of disciplined men and women."
The awards ceremony was the fourth annual joint scholarship award ceremony between the RSVG Police Force and the Police Co-operative Credit Union.(JWC)v