Posted on
MCT adds new entertainment to bi-annual Craft Fair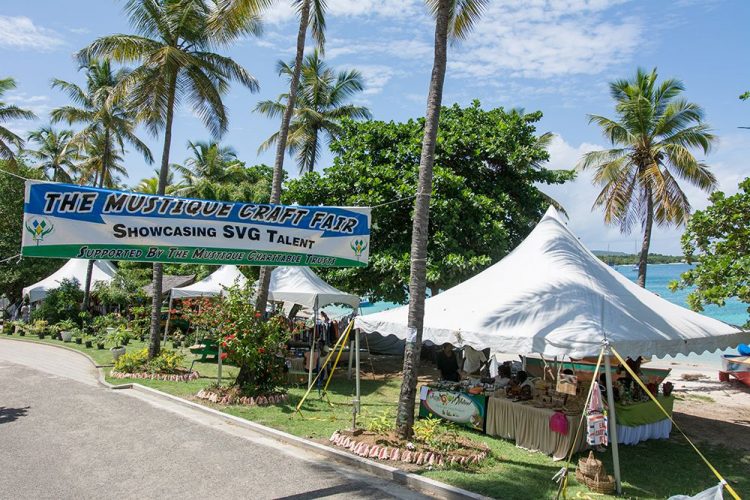 The Mustique Charitable Trust (MCT) bi-annual Craft Fair brings more to the island of Mustique than trinkets or products.
On August 9, it brought together 27 visiting Vincentian artists and entrepreneurs to sell handmade creations to the guests and families on the island. The displays of creations ranged from a start-up organic cosmetic business, run by a husband and wife team, to vetiver grass, crafted into mats and table placements by a MTC supported sustainable livelihood programme at the two correctional facilities in St Vincent, coordinated by artist Vonnie Roudette.
The guests filtered through the tents and the many displays, finding what delighted them. Undoubtedly the most enthusiastic customers were the children. Many of the children have been attending the craft fair for several years, with the artists often commenting on how they have grown, while noting their changes in product preferences. Their interaction with the artists about how the items are made encourages the children to gain an appreciation of the creative process and makes their purchases all the more personal.
The vendors noted that the value gained from the Mustique experience comes in their observations and conversations with the guests and fellow artisans. One particular suggestion to make an organic sunscreen with no harsh chemicals for the skin led to a new product, which was on display the very next year.
At each craft fair, regular vendors have expanded their product range of products and this growth has created employment. Some have apprentices come on board to assist with the intensive work hours that go into creating many of these crafts.
At the end of the day, many of the guests and families could be seen waving their goodbyes, adorned with their bounty, as vendors packed up their displays and stored their experiences for the next craft fair at Easter 2018.