Posted on
Tuck shop thieves wicked, cruel – Sardine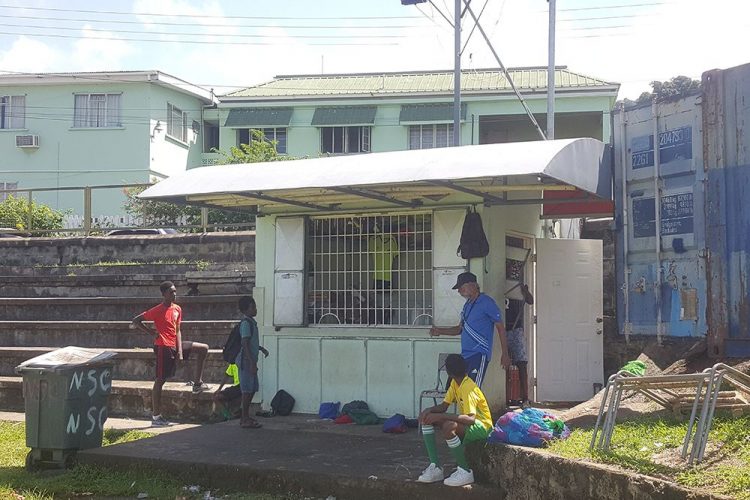 Soccer coach Ian Sardine has described as "wicked and cruel" the theft of items from his tuck shop at the Richmond Hill playing field.
The small shop, which operates as a base for the System 3 Football Academy, was broken into sometime between the night of Wednesday, August 2 and the morning of Thursday, August 3.
Sardine said that the thief or thieves made off with the Academy's flat screen television, valued at about $3,000, meat the young footballers were storing in a freezer to be used at an upcoming camp, drinks and several other items.
Sardine said the dead bolt on the door was broken off and the security gate pushed in.
He revealed that the tuck shop has been in that location for about 10 years and this is the first time it has ever been broken into.
"I am disappointed that somebody would come and take it (the TV), because this was for the kids' relaxation and I also used the TV when on camp," said Sardine, who added that he must now put more effective security measures in place to make sure no more burglaries are committed at the tuck shop.  
The tuck shop is surrounded by three schools, all of which have watchmen on duty.
On the same night that the tuck shop was burglarized, thieves also used the inclement weather to shield their illegal activity in the heart of Kingstown. Elizabeth Law Chambers, the base of Stanley "Stalky" John QC, was burglarized sometime between 4.30 p.m. Wednesday and 8 a.m. Thursday. Reports are that C&R Enterprises Ltd, located on Bay Street, was broken into the same night.
Within the last year or so, several burglaries have taken place in Kingstown.
On Friday, July 7, between 2 a.m. and 4 a.m., a burglary took place at the Postal Corporation in Kingstown, with cash, cheques and other items, of total value EC$75,000, being removed. Police Constable Ettian Charles is currently on remand, having been charged
in relation to the post office heist.
Last June, a prison sentence of two years and five months was handed down to Long Wall resident Recardo Bacchus, who admitted to stealing over $62,000 in cash and goods from two businesses in Kingstown.
Last November, Bacchus was jointly charged with Leon Samuel and Kirk Williams of New Montrose and Sion Hill on three counts of burglary. When they appeared before magistrate Bertie Pompey at the Kingstown Magistrate's Court on November 22, 2016, Bacchus pleaded guilty, while his co-accused pleaded not guilty.
They were charged that between November 10 and 11, 2016 at Kingstown, they entered the Majestic Express building as trespassers and stole EC$7,095.52 in cash and goods. The trio was also charged that between October 26 and 28, 2016 at Middle Street, Kingstown, they entered the Fred J Dare & Co Limited store as trespassers and stole cash and items valued at EC$27,886. They were also charged that on October 14, 2016 at Kingstown, they entered the Fred J Dare and Co Ltd store as trespassers and stole the sums of EC$23,267 and US$1,450 in cash, the property of Mona Dare of Cane Garden.
So far, only Bacchus has been jailed and Samuel and Williams will reappear in court on September 18, 2017.(LC)