Posted on
SVG Girl Guides represent at international Guides camp in Ireland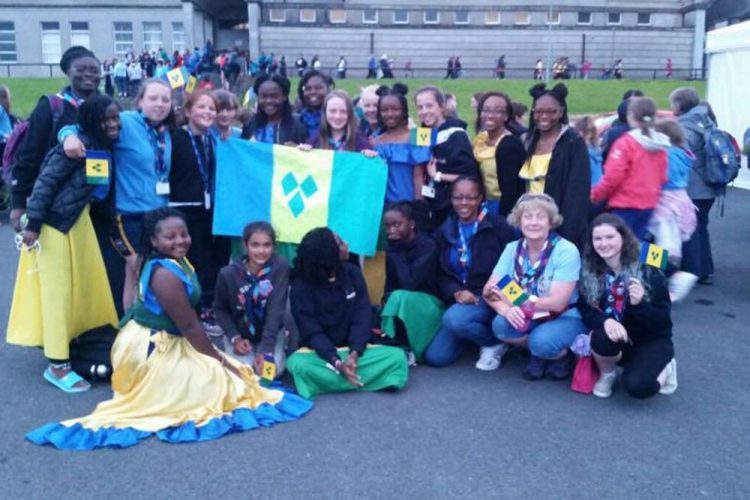 Nine Girl Guides and six leaders from St Vincent and the Grenadines (SVG) are now in the United Kingdom, having recently participated in an international Girl Guide camp in Ireland.
Monique Mitchell, Reann Roberts, Nyah Mckenzie, Nailah Samuel, Nzinga Deroche, Xariah Williams, Ronelle Yearwood, Jemelia Thomas and Alyssa Davis returned to England on August 6, after spending one week at IGGNITE 2017, an international Girl Guide camp held on the grounds of Rockwell College in Ireland.
According to the Tipperary Star, some 1,800 Girl Guides from 12 different countries enjoyed campfires, outdoor adventures, and made lifelong friends in the biggest ever international Girl Guide camp to ever take place in Ireland.
Joining the Vincentian Girl Guides were girls from Ireland, the US, Canada, New Zealand, Australia, Malaysia, Georgia, Zimbabwe, the Philippines, England, Scotland and Finland.
"After two years of planning, we're so excited to be meeting the girls and finally setting up camp," IGGNITE 2017 camp chief Jenny Gannon told the Tipperary Star, ahead of the camp, which ran from July 30 to August 6.
"The girls will have a fantastic experience, trying out all sorts of team-building activities, as well as enjoying fun and friendship with girls from around the globe."
Activities include water obstacle courses, kayaking, horse riding, building rafts and rockets and playing quidditch, as well as drama, music, body confidence, yoga, meditation, and coding workshops.
"There is a serious side to camp too," said Gannon. "We are partnering with Trócaire, Concern, UNICEF, and Irish Aid to help the girls learn about the Sustainable Development Goals and how to stand up for refugees and to advocate for gender equality.
"It is hoped that their experience at IGGNITE2017 will ignite their imaginations and a passion to contribute to their local communities. The girls will be encouraged to 'BE' active, adventurous, unique, limitless, and to be survivors and advocates. In other words, they will explore their potential to make a difference to the world around them at home and overseas, by speaking out on issues that concern them and inspiring others to take action too."
The Vincentian Girl Guides, who are from units within Kingstown, the Grenadines and the Windward Division, were accompanied by guiders and leaders: Karen Morgan, Camara Browne, Julie Sandy, Setranella Young, Gatlin Roberts and Oneka Morgan.
The Vincentians will return to St Vincent and the Grenadines on August 20.