Posted on
New holistic ministry launches in SVG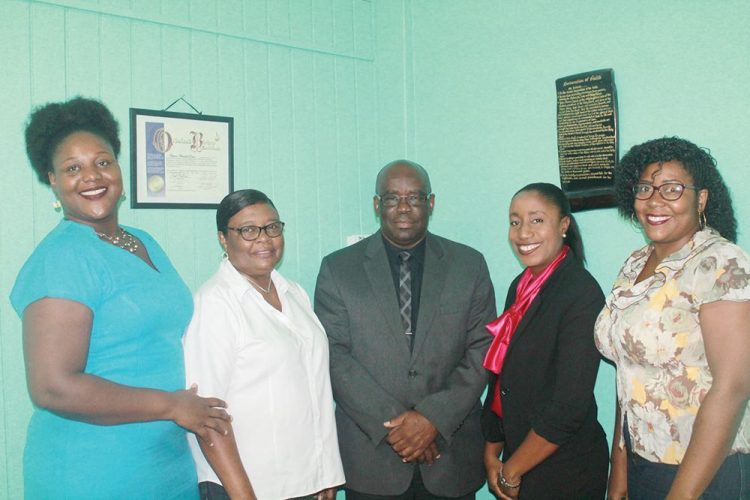 A new ministry poised to cater to the holistic needs of the people of St Vincent and the Grenadines (SVG) will be officially launched tomorrow.
Members of the New Testament Church of God held a press briefing on Wednesday to announce the launch of the Total Care Ministry.
And Bishop Wendell Davis says that the church is not just about preaching salvation.
"It is an integral part of who we are, but also we are a church who are very interested in the welfare of our people, because we believe salvation and Christianity should cater for the entire man, body, soul and spirit," Davis said.
Dr Jozelle Miller, coordinator for the new ministry, said that the initiative is a form of evangelism meant to help persons realize the need for Christ in their life.
Miller, a psychologist, noted that persons respond when their needs are being met.
She said the Total Care Ministry will focus on four missions: a medical mission, food and clothing drive, shut-ins, hospital and prison mission and a foster care mission.
"We seek to identify vulnerable persons, be it teenagers, the elderly, widows, pregnant teens… and try our best to meet their basic needs," Miller said.
Persons who attend the launch of the ministry, which will begin at 9 a.m. at Wilson Hill in Kingstown, will have a chance to witness the food and clothing drive mission in action.
Alana McMaster, the focal point for this mission, says that there will be free distribution of clothing and a hot meal.
She added that this would take place at least once per month.
Dr Melissa Ince is the focal point for the medical mission and she said the goal is "to bring to our communities a much needed medical care to the people who may otherwise be unable to afford health care or living in a remote area".
Ince revealed that the first outreach took place in February at Georgetown, where persons were able to receive general consultation, dietary consultation, HIV testing and blood pressure monitoring.
Carlita Cato has responsibility for the hospital, shut-in and prison mission, which will be in full effect from September this year.
And she says that its focus will be on providing shut-ins with recreational experiences and also help with rehabilitation of persons in prison.
Miller is also the focal point for the foster care mission; an initiative she says is still in the discussion stages and set to launch next year.(BK)