Posted on
Students awarded scholarships by FLOW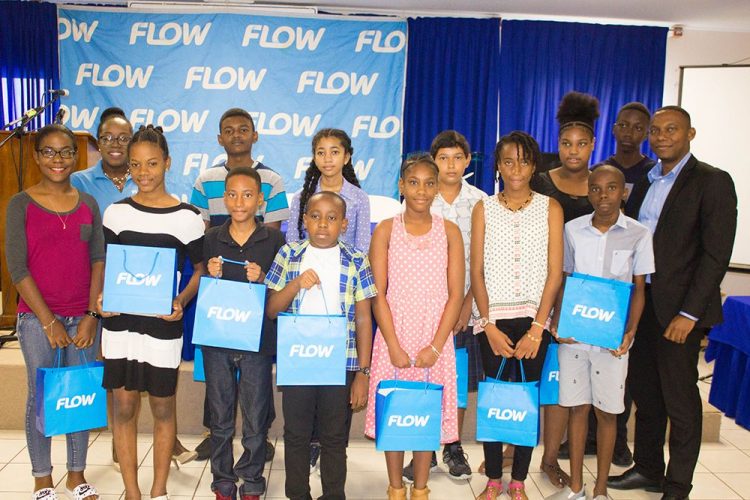 FLOW continues to fulfil its corporate social responsibility.
And, as a result, on Wednesday, August 2, representatives of FLOW, aided by a Ministry of Education official, handed out eight scholarships and one bursary to successful Caribbean Primary Exit Assessment (CPEA), Caribbean Examinations Council (CXC) and Caribbean Secondary Education Certificate (CSEC) students.
Three of the scholarships went to children of FLOW employees: Ziel Caine, Naeem Greenidge and Chavez Hull; the bursary also went to a FLOW employee's child, Adrian Frederick.
Two scholarships went to customers' children: Romar Miller and Sade Regisford; and the top three performers at the 2016 FLOW Lions Club South Public Speaking Competition were rewarded with two-year scholarships. They are Rhea Ollivierre (winner), Rasheed Fontanelle and Andre Spring.
The top performer after remediation (CXC/CSEC 2016), former Bethel High School (BHS) student Shoinna Stewart was also given a two-year scholarship.
Speaking at the scholarship ceremony, which was held at Frenches House, FLOW country manager Wayne Hull said for the last 32 years, the company has been rewarding students for academic excellence.
Hull commented that he sees the scholarships as not only a recognition of students' brilliance, but also a recognition of the parents and guardians "who have led their children throughout their primary school career, ensuring the end result is success."
Hull's son, Chavez, is a recipient of a scholarship.  
Hull noted that this was his third year as country manager giving out scholarships and he is proud that FLOW can make this commitment to employees and customers.
"The annual FLOW scholarships are really a cornerstone of what we call our corporate social responsibility," said Hull, who added that the scholarship programme will continue as long as the company exists.
Each awardee receives an annual grant of EC$1,400 a year (from Form One to Three). The amount increases to EC$1,600 from Form Four to the tertiary level.
There are over 20 students on the programme annually and a student must maintain good grades to keep the scholarship. This year, FLOW increased the number of scholarships given to CPEA performers from four to five.  
The awards ceremony heard from senior education officer in the Ministry of Education Dixton Findlay and Marketing and Communications manager at FLOW Nikala Williams.