Posted on
KCCU urges scholarship winners to 'pave road to success'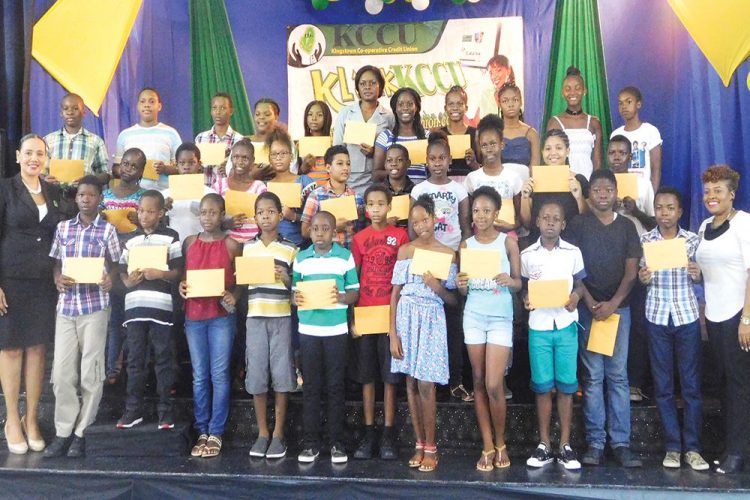 Scholarship recipients have been advised to use whatever challenges they may face to pave the road to success.
Although the theme for the 2017 Kingstown Corporative Credit Union (KCCU) scholarship awards ceremony was FOCUS, the addresses all seemed to be focused on the challenges that the recipients may face along the way.
Marcelle Alexander, the acting chief executive officer (CEO) of the KCCU, told scholarship recipients that nothing comes without its challenges and they should not be deterred by them.
"Success does not always show up overnight, but comes through a process of setting goals and pursuing them with dedication and focus, even in the face of challenges."
Alexander also urged parents and guardians to support the scholarship recipients and to play an active role in their education and to be a source of encouragement.
President of the KCCU Cynthia Hope-Browne said last year, the number of persons awarded scholarships increased from four to six, and this year, the scholarship value has been increased by $400 to $1,500.
"Since 1995, KCCU has awarded scholarships to over 56 persons in the amount of $303,000, as well as bursaries to the tune of $165,000, to persons who were successful in the Common Entrance Exams, now called the Caribbean Primary Exit Assessment."
Hope-Browne says this is in addition to numerous donations to schools and other learning institutions across St Vincent and the Grenadines (SVG).
Past scholarship recipient Chante Melville-Francis encouraged this year's recipients to make the most of the scholarship and bursaries, because "to whom much is given, much is expected."
Senior education officer with responsibility for primary schools Yvette Antoine told the recipients to continue to work just as hard in secondary school as they did in primary school, while their parents were advised to take a keen interest in their children's education.
Sheddie Conliffe, head of Science and Technology at the Thomas Saunders Secondary School, delivered a motivational speech at the awards ceremony. He told the recipients they are at a crossroads and advised that their ultimate destination should be success. He, however, said although success is important, the journey to success has to be properly planned.
Using the theme for the ceremony, "FOCUS", Conliffe told awardees they need to have faith to take the first step and to brush aside the naysayers and move forward.
"Opportunities do not mean anything unless you capitalize on them. If you do not capitalize on them, they would pass you by and you will be left wondering what if and wondering what if is never a good thing."
He further advised that in grabbing at opportunities, one should be optimistic about the outcome, for no one would believe in them if they do not believe in themselves. Conliffe said every opportunity would not turn out to be a good one, but if things do not turn out well, they must pick themselves up and try again.
The educator further advised that they need not be afraid of failures, because there are lessons to be learnt from their failures.
The KCCU scholarships are awarded annually for a five-year period. Six students are awarded scholarships and two, bursaries, annually.
This year's scholarship recipients are Ashlyn Francis, Gabriella Hillocks and Nicholan John, who were awarded academic scholarships, while Daequan
Lynch, Lyndisha Cruickshank and Karen Providence received ocio-economic scholarships. The bursary recipients were Vonique Samuel and Ciara Richards. General contributions of $50 were also awarded to students who were successful in the CPEA, to be used to open an account at KCCU.(JWC)