Posted on
Emancipation Day rally turns into tribute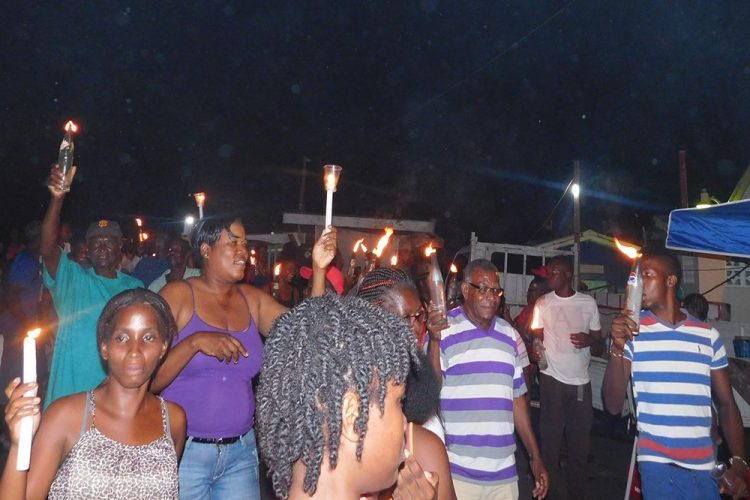 What was planned as an Emancipation Day rally to mark the end of slavery in St Vincent and the Grenadines (SVG) turned into a night of rememberance for political and social activist Oscar Allen, who died on July 28 at the age of 75.
The rally was held at the Earlene Horne Square at Diamonds, the home village of Allen, with touching tributes coming from various persons who interacted with him throughout his life.
Fellow Diamonite Simeon Greene said Allen was a man of the people and had a deep love for poor people. He also noted that Allen's faith was strong.
"He loved the Word and wanted to become a preacher of the Word, but he felt he loved people sufficiently that he wanted and he said to himself. 'I am never going to accept a Christianity which says that on a Sunday let us go to church, let us open the hymn books; but during the week, we hate our brother, during the week we don't want to see our sister…; during the week we see people without food and we have food and refuse to give them.' Oscar said I can't accept that Christianity. In those days, his brand of Christianity was called Liberation Theology."
Cecil Ryan, who was a very good friend and colleague of Allen, spoke of the time they spent together as part of various organizations. He said Allen was a man who was known not only in St Vincent, but globally, because of his activism.
Ryan noted that if he had any issue that was bothering him, he only had to go to Allen's residence and Allen would calmly speak to him and his issue would be no more. He also recounted a few of the organizations that Allen was a part of.
"I could talk about Projects Promotion, National Farmers' Union and right here in Diamonds…. RTC, Walter Rodney Centre, Inner Man Centre…that was Oscar; but also Brother A was involved in a number of organizations regionally…WINFA and many many others."
Ryan further stated that Allen touched just about every aspect of the Vincentian society.
Prime Minister Dr Ralph Gonsalves, in his remarks, said one cannot understand Oscar Allen without understanding his belief in the Methodist faith.
"Oscar's socialism became conjoined with his Methodism, by showing that in order to get things done, you can't do them as an individual, you have to do them in solidarity and struggle with one another; that is how you achieve things."
Gonsalves further said that individually, you can achieve things, but you can't make the social changes simply as an individual, but that we have to organize and work together to effect changes.
"I believe that Oscar Allen was a man who lived in the present, but spoke to history. He wasn't a man to want to be in government; there are too many things which you have to do which you don't necessarily agree with. That would have given Oscar an upset stomach every day."
The Prime Minister said one could never have doubted Allen's sincerity and honesty. His socialism was of great importance, as he believed in empowering ordinary people. He said Allen's work should be acknowledged and in so doing we have to make the most of our education, respect our parents and do something good in our community.
"You can't tell me that you love Oscar and what you want to do is wait until a man plant his yam or tannia and you just watching him and you go and thief it. You ain't respecting Oscar at all if you do that, because by the sweat of your brow, you eat bread."
With regard to emancipation, Gonsalves said tremendous progress has been made, but a lot more needs to be done.
Also present at the Emancipation Day rally was a group of Garifuna descendants from Guatemala.
The rally culminated with a candlelight walk through the village of Diamonds, in rememberance of Oscar Allen.(JWC)