Posted on
After 80 years, nowhere to rest colours – SVGCF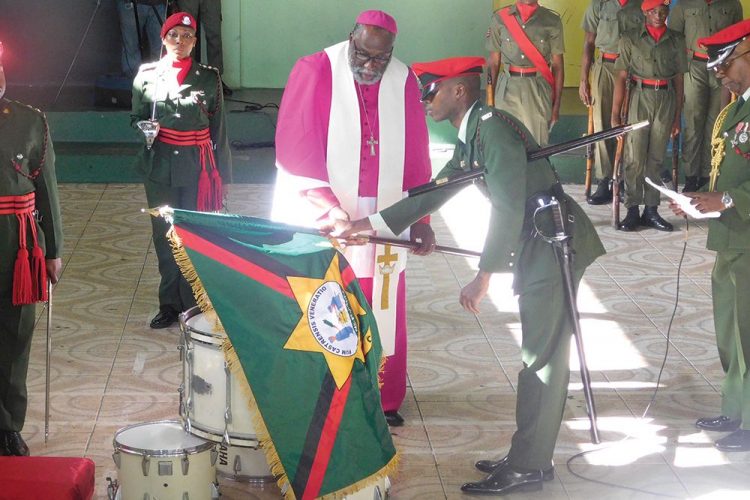 After 80 years of existence, the St Vincent and the Grenadines Cadet Force (SVGCF) still has no permanent home.
As he spoke last Sunday at the historic ceremony for the consecration and presentation of the regimental colours of the organization, commandant of the SVGCF Lieutenant Colonel Dwight Lewis described the situation as unfortunate.
"It is unfortunate that the 80-year-old organization has nowhere to rest its colours."
Lieutenant Lewis said for years, the cadet force has been lamenting the fact that they do not have a place to call home and with this year being their 80th year of existence, he is saddened that their cries have gone unheard.
The ceremony saw the Governor General Sir Frederick Ballantyne handing over the colours to the Regimental Sergeant Major of the cadet force, McKay O'Neil.
As it relates to where the colours would be displayed, Lt Col Lewis said: "It should be adorning the officers' mess, but would be displayed in the cadet office."
The regimental colours were blessed by the Anglican Bishop of the Windward Islands, the Rt Rev Calvert Leopold Friday.
The colours are green, red, yellow and black. The history and tradition of the organization are embedded in the colours of the flag. The green and yellow signify the origin: the Grammar School; and the black and red represent the transition and expansion of the movement.
The cadet force was started at the St Vincent Grammar School in 1937 and was expanded to accept males from other schools in 1971; females were allowed to join in 1974.
Also in attendance were former commandants of the cadet force: Major St Clair Leacock and Captain Lennox John, as well as Commissioner of Police Renold Hadaway.
On the parade were the marine cadet unit, two cadet units in green and the cadet force band, all in full ceremonial wear.
This historic event was held at the Bethel High School at Campden Park.
The cadet force is currently hosting its annual summer training camp at the Bethel High School, with a code name 'Camp Next Level'. The camp began on July 14 and will end today.
Among the topics the cadets were exposed to on camp are mass casualty management, disaster preparedness – with an emphasis on hurricanes and tropical storms, first aid, water safety and life skills, along with their usual cadet training of drills, map and compass, field craft and skill at arms.
Two senior cadet officers were presented with the Insignia of the Caribbean Cadet Medal on the parade. Presented with medals were Captain Vulon Layne-Peterson and Captain Phillip Cambridge, in recognition of their loyal and devoted service to the Caribbean Cadet Movement in the sphere of Training and Youth Development.
The awards were presented to the officers by Governor General Sir Frederick Ballantyne, on behalf of the Caribbean Cadet Association.(JWC)