Posted on
Quality Paints – 10 years and going strong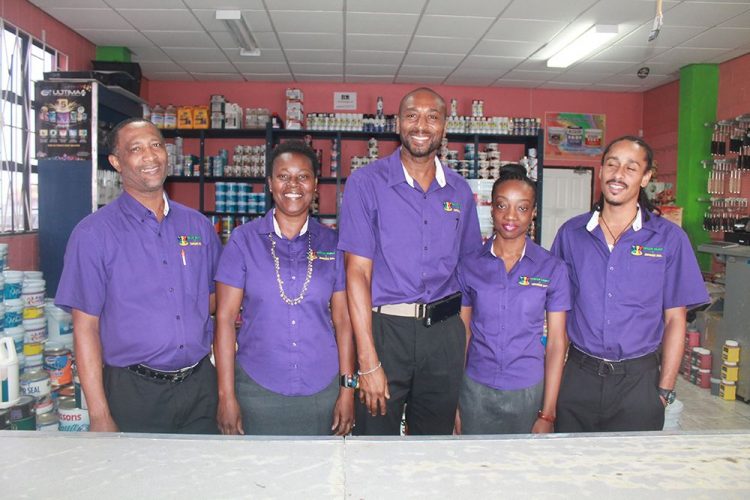 by Chanolde Munroe
What started as an idea between a group of men has blossomed into a thriving business, celebrating its 10th year in operation.
On July 30, 2017, Quality Paints and Supplies Ltd will celebrate its 10th year of offering persons 'quality paints'.
And, according to Bernard Wyllie, the manager of the Arnos Vale branch of Quality Paints Ltd, it is their expertise in paint that sets them apart from their competitors.
"One of the things that probably would set us apart is we are a paint store. We not just a hardware store that does paint on the side. We are a paint store, so we are versed; we have all the technical training, expertise in paints and not just by the way. We are trained and knowledgeable about paints," Wyllie said.
He stated that when their doors opened in 2007, they started with only one brand of paint; however, they are now able to offer the best paints brands from across the Caribbean.
"We started with one machine, we have four machines right now. Right now we have gone past just using paint charts; persons can bring their samples to us and we can measure those samples and get the exact shade and so for them. So, we have come a long way," Wyllie said of their progress over the years.
"When we began we decided that we would sell the top quality brands that are available in the Caribbean, so that's why we could boast at say that we have quality paints at Quality Paints."
They sell Harris, Berger, Kaleidoscope and Sissons brands.
He added that in 2015 their board of directors saw the need for expansion and came up with the idea of opening a branch at Arnos Vale, which allows for customers to get away from taking the trek to Kingstown for their paint needs.
Wyllie noted that while a few products are a bit on the pricier side, they generally offer very competitive prices.
He thanked all the persons who helped make their business a success.
"At Quality Paints, we would like to thank all our loyal customers, the companies that support us, the homeowners that support us. We would like also to thank our directors and our faithful staff in that past and those that are presently working with us. We would like to thank you for all of the hard work that you would have put into making 10 years a success at Quality Paints and Supplies Ltd."
Julian Dick, the manager of the Kingstown Branch, noted that a customer appreciation day will be held to recognize the people who have stayed with them over the years.
"….We appreciate them very much; without them and the help of God we would have been somewhere else, but we are looking forward for a bright future and hope things get better and hope that the public would continue to support us in which they did for the last 10 years," Dick stated.
He said there are ideas in the works for the future so that customers can experience a bigger, better Quality Paints.
The Kingstown branch has employees, Saville Edwards and Stefrine Durant, who have been with the company from inception.
Edwards said that for the past 10 years he has seen an improvement on the quality of the products that they offer customers.
"As the name says, Quality Paints, we are a company who craves quality in everything we do. We make it our business to give the customer the quality that we set out to do."
Quality Paints and Supplies Ltd expressed thanks to the following for their continued patronage: Hope Construction, Frederick Construction, Fraser's Construction, Jones Archibald Designs, Mustique Company Ltd, CK Greaves & Co Ltd, St Vincent Brewery Ltd, East Caribbean Metals Industry Ltd, Lewis Associates, Goodluck Holdings, Aqua House, Rose Simmons, E & J Robertson Construction, Robertson Brothers, ECGC, Tyrone Daniel, Brian Hadaway, Industrial Marine Services and Knight Trading Ltd, Bequia.