Posted on
There is protocol to follow when dealing with police matters – PM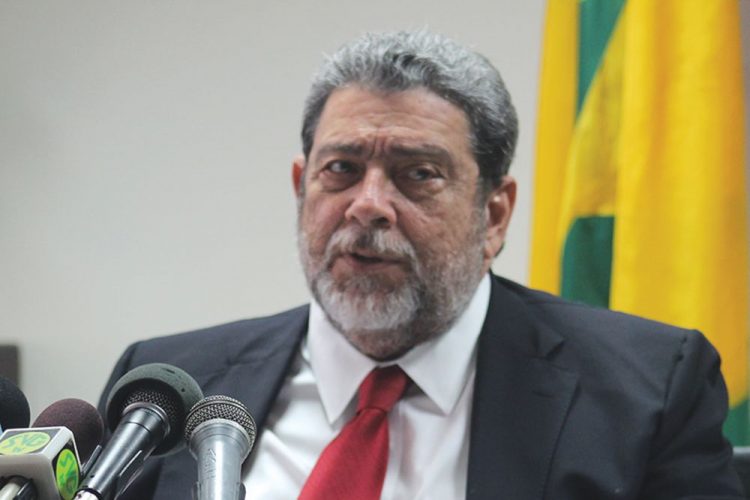 You don't need to storm anywhere or lock up anybody
Prime Minister Dr Ralph Gonsalves says that there is a protocol that must be followed when handling issues related to the Royal St Vincent and the Grenadines Police Force (RSVGPF).
Gonsalves was speaking on a WE FM radio programme yesterday, when he addressed leaked voice recordings involving three members of the Police Welfare Association (PWA) in which one person suggested that they "storm the Prime Minister's office".
"You don't need to storm anywhere or lock up anybody. These are matters which are straightforward," Gonsalves, who is also the Minister with responsibility for National Security, said.
The Prime Minister outlined
that internal management issues in the police are dealt with in-house by the police high command. He further explained that before he is privy to matters, it is dealt with first internally and then with other professionals – including the permanent Secretary – in the Ministry of National Security.
"If you want to discuss salary increase, you want to discuss improvements in allowances and the like, there would be a team involving the ministry of finance and involving the Permanent Secretary," he said. "When I was written about certain matters, those matters were put to those public servants to address those matters with the Police Welfare Association."
Gonsalves stated that if the PWA was dissatisfied with the time that it was taking for matters to be dealt with, then they should have followed up with the necessary authorities in order to address their concerns.
Lawyer Israel Bruce has been identified as the lawyer for head of the PWA Brenton Smith and has made a statement regarding what was said by members on the leaked voice notes.
But the Prime Minister says that Bruce is "playing smart with stupidness," in order to justify the statements made.
While he acknowledged that more can be done with regard to the police force, Gonsalves stressed that the force has seen marked improvements in a number of areas over the past 16 years.
He noted that physical facilities improved significantly, with new police stations built in places including Canaoun, Biabou, Georgetown and Questelles.
Additionally, the Prime Minister highlighted salary increases across the board for police officers and the number of persons in the force being almost twice as much as it was before.
"I was very concerned to ensure that we pay the police better," he said. "When you entered the police force in 2001, you got a salary just about the level of a junior clerk. You enter now at the level of senior clerk. I'm giving approximate classifications. It takes you about 10 years to move from junior clerk to senior clerk in the public service…and you have to pass an examination to go across the bar."(BK)