Posted on
TCCU awards near $40,000 in scholarships, book vouchers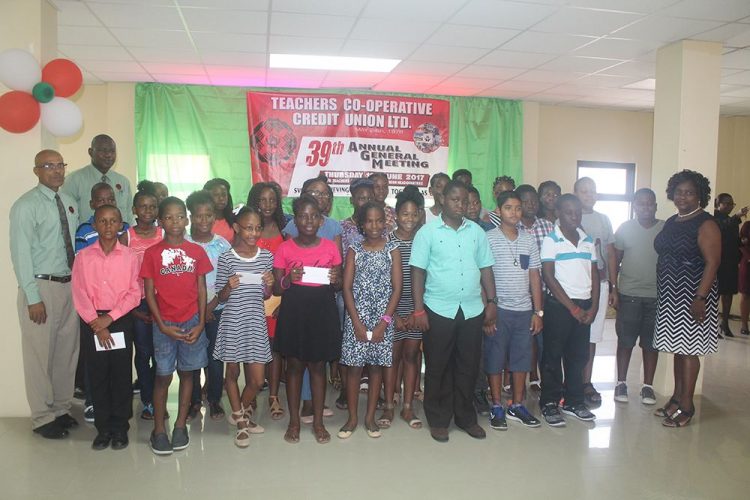 Almost $40,000 in scholarships and book vouchers were distributed by the Teachers Cooperative Credit Union (TCCU) on Tuesday, to young members who were successful in this year's Caribbean Primary Exit Assessment (CPEA).
It was revealed during Tuesday's ceremony at the TCCU headquarters, that four full scholarships with a total value of $33,600 will be awarded to top performing students over a seven-year period and 42 boys and girls would receive book vouchers with a total value of $4,200.
Kay Martin-Jack, president of the credit union, said that the scholarships not only recognize the academic achievement of students, but they also provide community support for young and future members of the organization.
"We believe in our young people's potential; we also believe that just as we honour the legacy of our past, we also have a responsibility to invest in our future," she said. "We are confident that we are and will be playing an integral part in moulding a cadre of young people who will be able to lead, serve, work with, be members or even manage the credit union in the years ahead."
Martin-Jack also said that over the past six years, the credit union has awarded 21 scholarships and 352 book vouchers, which have helped young persons realize their dream of a secondary school education.
The president took the opportunity to impart words of encouragement to this year's recipients, as she urged them to continue striving for success in all that they do.
Daniel McMillan, accountant and Simeon Greene Jr, 2016/17 scholarship recipient, also delivered brief addresses at the ceremony.
One of this year's scholarship recipients, Brielle Compton, expressed thanks on behalf of all awardees.(BK)