Posted on
Spritual Baptist youths hold 'queen' show over Carnival weekend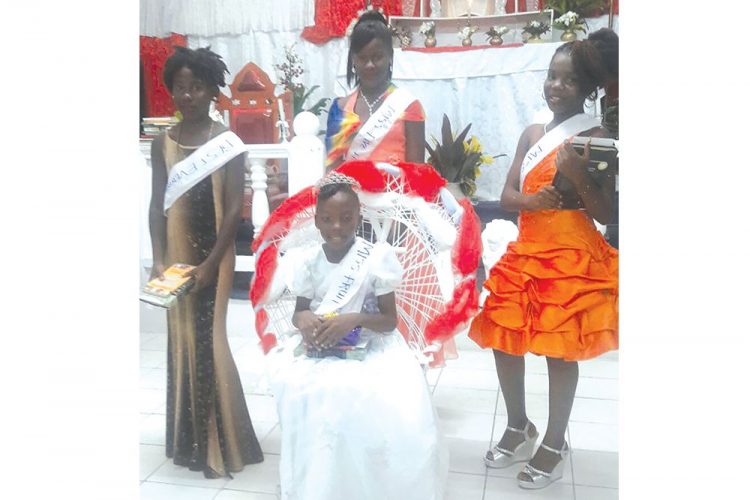 Jazanie Jones, daughter of Archbishop Jones, was crowned "Queen" of the first ever talent show held on Saturday, July 8 at the Mt Carmel Spiritual Baptist Church, Chester Cottage.
The youth group, "Mt. Carmel Pillars", single-handedly pulled off the first ever Miss Fruit of the Spirit show, in an effort to keep the young ones occupied over the Carnival weekend, after their camping trip was cancelled.
With less than one week to organize, four youngsters, Jazanie Jones – Miss Apple, Ashanti Richards – Miss Orange, Janis Neptune – Miss Passion Fruit and Apiah Neptune – Miss Five Fingers vied for the crown. It was dubbed an evening of fun and laughter, as the youths sang, danced and did drama.
At the end of the competition Miss Apple – Jazanie Jones walked away with the crown and three of the four judged categories. She took the best cultural wear, best interview and best talent categories, while Janis Neptune – Miss Passion Fruit took the best interview category. Ashanti Richards – Miss Orange walked away as second runner-up, while Janis Neptune took the first runner-up position. Each contestant was presented with a Bible and monetary gift.
Visiting Bishop Andres Quow, Rachel Williams from the New Testament Church of God Georgetown and Shirley Marksman of the Jehovah's Witness were the three judges for the evening.
In her vote of thanks, president of the youth group Crystal Jones expressed her heartfelt thanks to the Archbishop and Bishop of the church for their support and permission to use the church grounds. She also thanked the judges, parents and well-wishers for making the event a successful one. The activities continued with a spirit filled Sunday morning service at the church and concluded with a fun day at the Canash beach on Carnival Monday.(CJ)