Posted on
Marriaqua student first to benefit from Breakaway Masters Educational Assistance Fund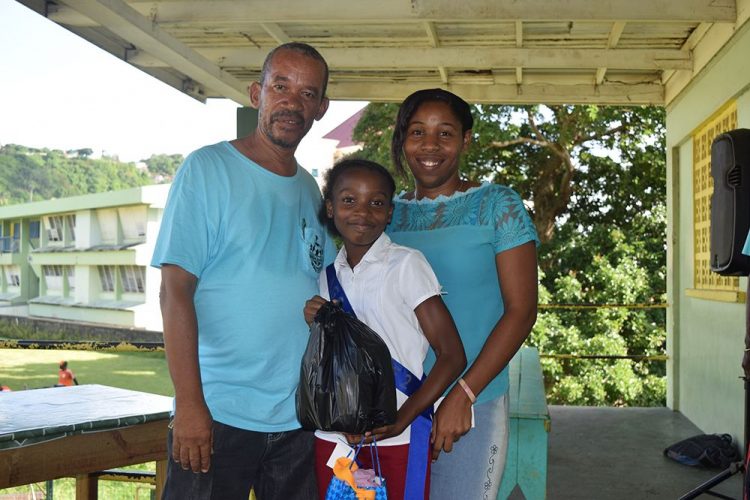 A former student of the Marriaqua Government School, Anaelia Williams, is the first to tap into the Breakaway Masters Organization Assistance Fund.
Williams, who was successful at the 2017 Caribbean Primary Exit Assessment (CPEA), was last Saturday afternoon at the Grammar School Playing Field pavilion presented with a cheque of $700 to assist in her preparations for her secondary education at the Girls' High School
Williams placed 188th overall and 116th for her gender, a position which made the constituents of the Breakaway Masters Organization pleased.
She was also given additional tokens, compliments Breakaway Masters.
According to president of Breakaway Masters Leopold Dopwell, Williams has close ties to the organization, having rendered the National Anthem of St Vincent and the Grenadines at one of the opening ceremonies of its annual firms' invitational football tournament.
Dopwell disclosed that his organization is able to provide an Educational Assistance Fund, thanks to those who have been faithfully supporting the football tournament since 2011.
Dopwell quipped: "When we get, we are able to give back."
Officially launching the Educational Assistance Fund, vice-president of the Breakaway Masters Camillo Samuel noted that the one-off payment will be $500. He revealed that the additional $200 was pooled from contributions from members of the organization.
Giving the procedure for the next distributions, Samuel listed the criteria for selection.
"Every year, we will select from our community, a child who … [is] successful at the CPEA examination for that year… The word community denotes a child who may be a player in the tournament… a native of St Vincent and the Grenadines, spectators, well –wishers and contributors and any child the organization deems appropriate to receive the fund," Samuel noted.
The 2017 Breakaway Masters Firms' Invitational Football Tournament, is carded for commencement on August 6.(RT)