Posted on
FLOW customer wins $10,000 Jackpot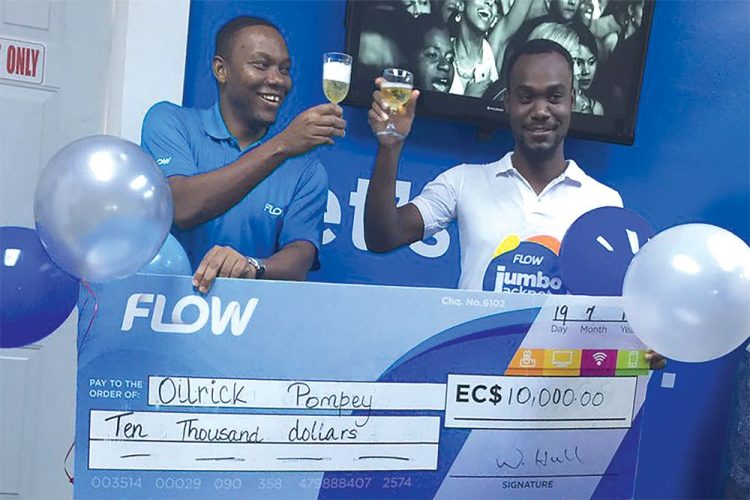 Being a FLOW customer has benefitted Richland Park resident Oilrick Pompey to the tune of EC$10,000.
Pompey is the "Jumbo Jackpot" winner in FLOW's 2017 "Go limitless with FLOW for Carnival" promotion. The Richland Park resident was entered in the draw for EC$10,000 when he signed up for one of FLOW's broadband/Internet packages in June.
Pompey collected his winnings on Wednesday, during a handing over ceremony at FLOW's base at Halifax Street; the money was handed over by FLOW's country manager Wayne Hull.
"I was in the bathroom sitting on the toilet when got the call and I thought it was a friend playing a joke, because they would do that sometimes…but after I realize it was real, I still couldn't believe it," Pompey said, after collecting his prize money.
Pompey, an attendant at the Evesham Health Centre, said this is the first time he has ever won anything and he does not see it as luck, but a blessing. He will therefore be giving some of the money to his church, the Joyful Praise Tabernacle Pentecostal Church in Richland Park, some to his grandmother and some to his mother. The remainder will go into his bank account.
"I will like to thank FLOW for giving me the opportunity to win such a large sum of money.
"…FLOW is a blessing to customers and they come and bless me with that, so I want to say thank you."
FLOW's 2017 "Go limitless with FLOW for Carnival" promotion came to an end last Friday and during the life of the promotion, customers were rewarded with prizes that included 10,000 minutes of talk time, 10,000 megabytes of data, a trip for two to Soca on the Hill in Barbados, Carnival Monday Band packs, Ahdrenalin Mas Bands costumes, Carnival show tickets and smartphones.
Tishanna Reid is the Soca on the Hill package winner.