Posted on
Mother of PM Gonsalves laid to rest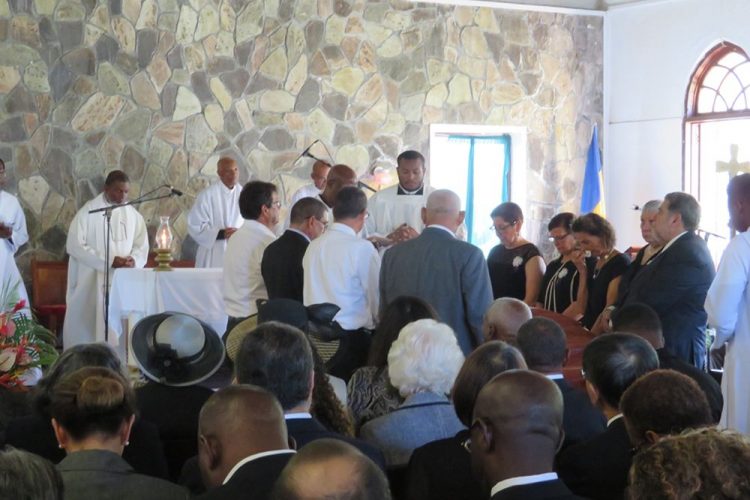 "Our mother is dead; grace has taken her safely thus far and grace will lead her home."
These were the words of Prime Minister Dr Ralph Gonsalves, as he delivered the eulogy at his mother's funeral service at the St Joseph's Roman Catholic Church at Belle Vue last Saturday.
"At the time of her death she was the oldest living person in our home village of Colonarie, currently there are four persons in our village in the nineties."
Tributes were paid to Francis by her granddaughter Kristie Gonsalves, Rick McDonald on trumpet and Voices of Praise in song. Daughters Judy and Junior read the First and Second Lessons respectively. The homily was delivered by Roman Catholic priest Father Callistus "Tuss" St Louis, who said Francis was like a mother to him.
The deceased was the mother of Patricia, Thorald ("Bruds"), Joan, Ralph, Ashley, Judy, Annette (deceased), Donally ("Biggie"), Junior ("June") and Alban.
The Prime Minister noted that his mother was a woman of strength and wisdom.
"For the last 40 or so years of her life, the community in which she lived so respected and loved her that everyone simply called her 'Mom'. They don't make them like Theresa Francis anymore."
Gonsalves recounted how his mother always encouraged her children to be hard-working and disciplined and to get a sound education.
"My mother was a strict disciplinarian, with her children, but lapsed in disciplining her grandchildren."
The Prime Minister lovingly remembered taking his mother to meet Pope John Paul the second in 2003.
"In our stopover in London at a restaurant, she ordered an organic chicken lunch…she took one bite, pushed her plate away and muttered 'tough yard fowl'."
The Prime Minister expressed his gratitude to everyone for their support and during his family's time of sorrow.
"I'm very happy, really touched to see so many persons from the community who have come
out.
"Our mom is dead but she lives in us, our lives have been enriched by her and her love leaves an indelible imprint in our memories."
In attendance at the funeral were various
local dignitaries, including former Leader of the Opposition Arnhim Eustace and representative for Central Kingstown St Clair Leacock, as well
as regional and international representatives, including the President of the Grenadian Senate, the Grenadian Opposition Leader, the Ambassadors of Brazil, Taiwan, Venezuela and Cuba, a Minister from the Venezuelan government and the head of ALBA.
Theresa Francis died at the Milton Cato Memorial Hospital (MCMH) on July 4 at the age of 98. She is survived by nine children, 31 grandchildren and 18 great-grandchildren.
She was interred at the Bellevue Cemetery (School Hill) after the funeral service.(JWC)