Posted on
Institutions sign historic MOU for development of steel pan music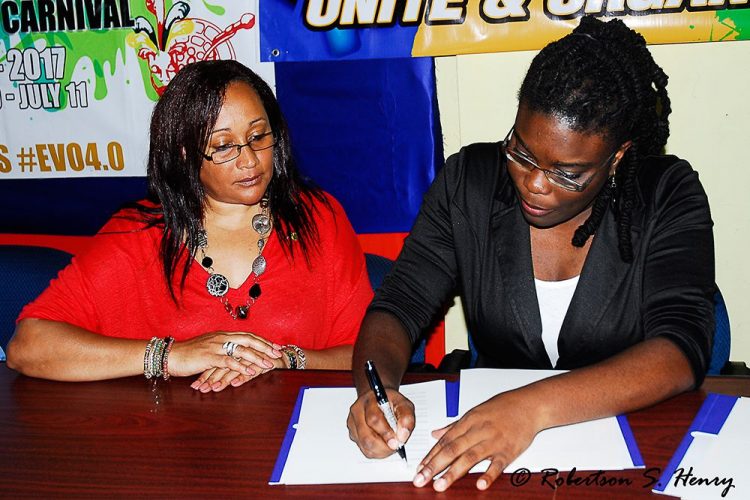 Two institutions have come together to further the development of steel pan music in St Vincent and the Grenadines (SVG).
The signing of a Memorandum of Understanding (MOU) on Thursday, June 29, 2017 at the CDC conference room at Victoria Park, between St Vincent Second Generation (SV2G) and the Youlou Pan Movement, has been deemed historic.
The MOU was signed on the eve of the official opening of Carnival 2017, as 40 years of June-July Mas was being celebrated. Ten junior bands and seven senior bands took part in the Panorama competition, with the VINLEC Junior Pan Fest being held on Sunday, July 2, and the Senior Panorama, which is part of Steel and Glitter, on Thursday, July 6.
Oneka Morgan, president of the Youlou Pan Movement, speaking at the signing, explained her vision.
"I have a vision for this organization that can be propelled by this simple act to be performed today. I am also hoping that by next year, the YPM would have an office space, to be better able to carry out its activities."
Jacqueline Roberts is the CEO of SV2G, and president of the Vincentian Association in the United Kingdom. She spoke of the organization's efforts to develop steel pan music, the importance of continuing to further the development of not just steelpan music, but also Caribbean culture, and of the linkages between culture, economic development, and society's aspirations.
SV2G is a community arts organization, based in High Wycombe, situated in Buckinghamshire, England, which facilitates engagement with creativity and Caribbean heritage through the music of the steelpan.
Master of Ceremonies Maxwell Charles said the signing of the MOU between SV2G and the Youlou Pan Movement is the culmination of months of discussion and a sure sign that such collaborative efforts would be to the benefit of all Vincentians, and by extension, all Caribbean nationals.
Morgan further stated that "The signing of this MOU symbolizes a partnership, and we share the feeling of excitement and optimism, as we think of the possibilities that can come from this partnership.
"You all are witnesses here to this signing, and the onus is also on you to hold us responsible, for keeping our commitment to the agreement."
Prime Minister Dr Ralph Gonsalves also spoke at the event.(Robertson S Henry)