Posted on
Fireman Hooper adds another title to his illustrious career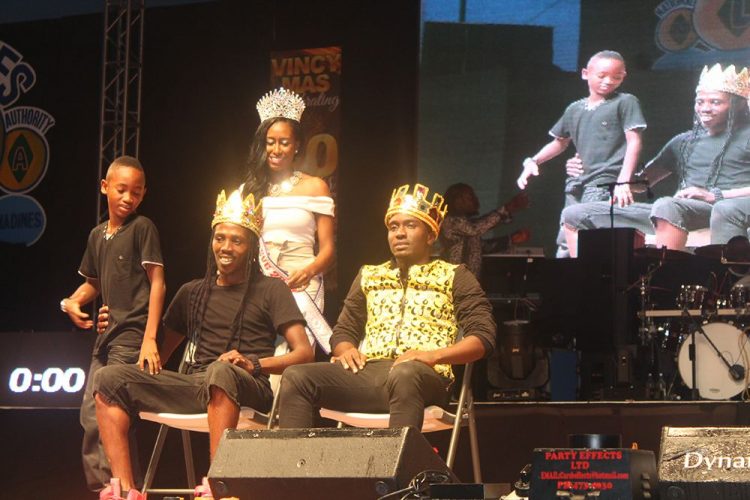 The self-proclaimed heavy metal, pound for pound, triple X Mega Dog, Weapon of Mass Destruction, Delroy "Fireman" Hooper has added another win to his growing collection of titles.
After placing third in last year's competition, Hooper's "Wild" was just what he needed to get the judges, nod over 12 other competitors in Victoria Park on Saturday, July 8.
Hooper unseated former Soca Monarch Shane "Hypa 4000" Husbands and pushed him into third place with "Rhythm Section", with the new Ragga Soca Monarch winner Hance John taking second with his song "Jab" and Lornette "Fya Empress" Nedd and Ryan "Royall" Abraham tying for the fourth position.
Coming on stage clad simply in a grass skirt, the now nine-time Soca Monarch winner sent Victoria Park into a frenzy even before he started to perform. In usual "Fireman" style, the audience participated in his performance, holding aloft tree branches, while running and dancing, which gave the Victoria Park the appearance of a moving forest.
From the beginning, Hooper was a crowd favourite and must have been awarded the full 10 points given for crowd response.
After being announced winner, the soca veteran of 19 years, told the crowd that he is always being told to retire from the soca industry and he has an announcement to make. However, shouts of "More Fire" rang out throughout Victoria Park.
He also disclosed that his 10-year-old son performed with him on stage, as in his song he did say "Everybody wild, even the little child."
Hance John, who had earlier in the night put on a winning performance in the ragga soca competition, shocked many with his energetic and lively performance. Hypa 4000, last year's winner, who had an Asian inspired performance, also came armed with a Rhythm Section from Trinidad and Tobago and pyrotechnics, but alas he was not able to retain his crown.
Speaking to SEARCHLIGHT after being crowned, Hooper said even though this win brings his total number of crowns to 12, a win always feels good to him. "All I win for is for my fans, not for me…," he said.
He said that he believes that it was his experience that set him apart from the other competitors, which was mostly made up of newer soca artistes.
Hooper said that his song was "just a song the people accepted" and this is what he believes set him apart from his competitors as well.
Hooper also placed third in the Ragga Soca Monarch competition with a duet performance with his nephew and newcomer Kalid "Kaviedes" Walters with their song "All Day".
Hooper has nine Soca Monarch wins, two Ragga Soca Monarch wins and one Road March title.(CM)