Posted on
Barrouallie Community in shock over fatal shooting of men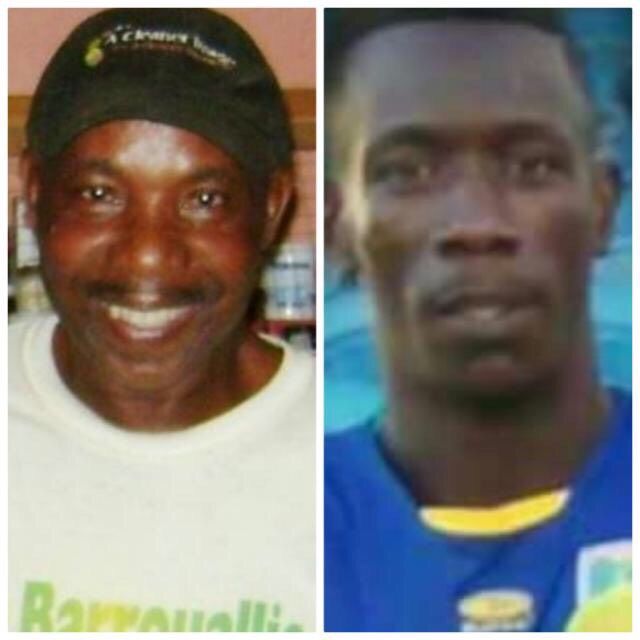 Residents of Barrouallie are in low spirits after two outstanding members of their community were fatally shot last Saturday night.
Dead are Roy 'Chicken' Richards, a 33-year-old footballer and painter and Daniel 'Bogan' Hepburn, a 78-year-old businessman.
Police responded to a call around 9 p.m., after Hepburn received a gunshot wound to his chest and Richards reportedly received a gunshot to his head, while at Hepburn's shop in an area called Bamboo Square in Barrouallie.
When SEARCHLIGHT visited Roy's mother Donnet Richards on Wednesday, she could barely hold back her tears.
During an interview, Donnet said the last time she saw her son was in the morning when he woke up to go to work.
"I aint see him again when I come back Saturday, cause when I get the news say they kill him and Mr Bogan out there, I nearly faint," said the mother of six.
Donnet recalled that her daughter was combing her (Donnet's) hair and dropped the comb and broke down into tears when she got the news.
"I bawl, I bawl, I set up three o'clock, I bawl until…He is a good child to me…I can't get over him so quick."
She described Roy as her breadwinner and a mannerly young man who would do his chores without question.
The mother of six also believes that her son was set up and Hepburn was killed trying to defend him.
Donnet also told SEARCHLIGHT that Roy had just come back from a football trip to Barbados at the end of June, adding that persons from Barbados have already contacted the family to pay their respects.
"I don't know how that person watch my son and kill him so and he aint do him nothing, so may God, I want God to bring the person; I does pray morning and night," she stressed.
"I would glad if the police bring them to justice; if I see the person I will say why you kill my son? What he do you? He offend you? I just want to see that person and ask him."
SEARCHLIGHT also spoke to Roy's sister Latoya Richards, who described her brother as a very loving, kindhearted and hardworking man.
She said she didn't get the opportunity to speak to her brother but she saw him when he hopped out of a van on Saturday.
"He don't trouble nobody. I don't know why someone could brutally murder my brother innocently, what have he done?… my God, why?"
Latoya then broke down into tears and could not continue the interview.
However, residents of the area also voiced their opinion, describing the shooting as a very sad incident.
"It kill we spirit; we don't have no spirit around here anymore," said one resident.
"He was a very mannerly young man," said another.
SEARCHLIGHT also visited Hepburn's family, and although his wife was not at home, his nephew Ian Quow described his uncle as a community man.
"You don't have to take what I say; you walk all over Barrouallie and people tell you exactly the kind of thing this man do, like Nine Morning, he deal with the park, he help the school, he help everybody and suddenly somebody just gone into his place and mess up the big man like that," he said.
Quow believes that the incident was a robbery gone bad, because a robbery attempt was also made on the night of Soca Monarch last year.
He told SEARCHLIGHT that Saturday, Hepburn's wife was at their house, which is adjacent to the shop, when she heard a gunshot.
Quow said that when Hepburn's wife peeped inside, she saw a dark figure over Roy's body and immediately ran and called the police, but the man had already fled the scene.
Police are investigating.(AS)