Posted on
AUS students hold educational campaign on STIs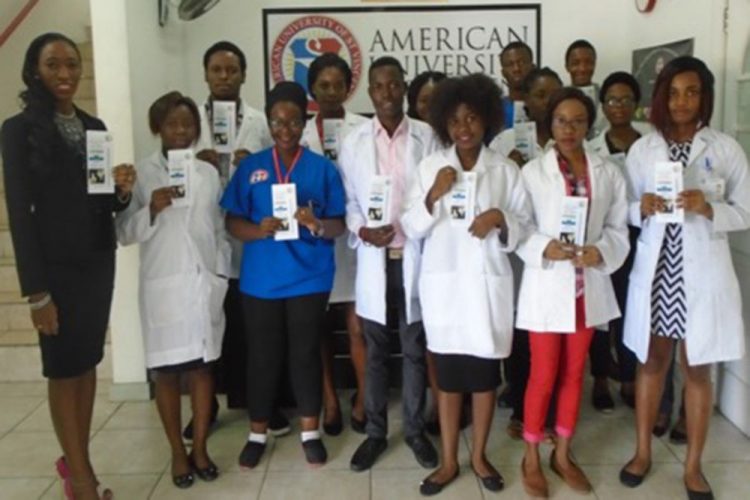 In an effort to remind persons living in St Vincent and the Grenadines (SVG) about sexually transmitted infections (STIs) and their possible effects on an individual's health, some medical students of the American University of St Vincent School of Medicine (AUS) conducted an educational campaign to specifically address the aforementioned.
STIs, like HIV, gonorrhoea, chlamydia and syphilis, were mentioned and individuals were reminded that these infections are primarily obtained through sexually contact. Hence, the need to use condoms was stressed and as part of the campaign, some condoms were even distributed. Educational materials were passed out to individuals on the streets of Kingstown, including a pamphlet that informed of antibiotic resistance to the treatment of common STIs like chlamydia, gonorrhoea and syphilis. Among these, gonorrhoea is the most common STI that is becoming increasingly resistant to antibiotics. This means that over time, if antibiotics continue to be misused and abused, it may be very difficult to treat gonorrhoea. The aforementioned is alarming and disturbing, as these common STIs predispose individuals to infections like HIV, which has no cure.
The information was well received by the public. It was a rewarding experience for the students who, through their interactions with the Vincentian public, learnt that persons are willing to gain further knowledge on the subject.
Following this public education session that took place on Friday, July 7 and given the positive feedback from the Vincentian public, the medical students at AUS vowed to continue their educational campaign with the hope that persons living in SVG will continue to be enlightened on STIs and the need to engage in safe sex practices. The team of students was led by dean of Student Affairs and assistant professor at AUS, Dr Shakel Henson.
In the future, AUS aspires to continue its service to the people of SVG. Within the recent past, medical students of AUS were also involved in educating the public about the need to be physically active, so as to reduce their risks of acquiring non-communicable diseases like hypertension. Additionally, sessions were conducted to increase awareness of the Zika virus disease, as well as measures that can be implemented to reduce one's risks of getting this disease. For International Women's Day, which was celebrated on the 8th March, some of AUS' medical students also took to the streets of Kingstown to promote the empowerment of women and girls. (Contributed by Dr Shakel Henson, Assistant Professor/Dean of Student Affairs, American University of St Vincent School of Medicine)