Posted on
100 per cent pass rate for Fancy Government School graduates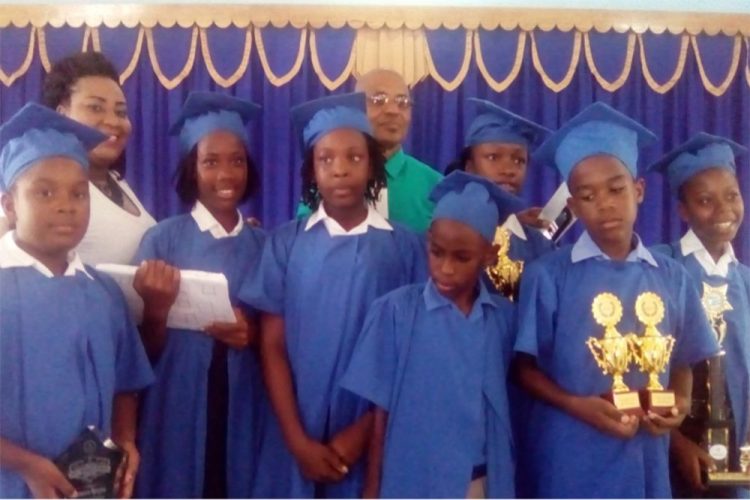 The Fancy Government School (FGS) is celebrating its first graduating class to have achieved a 100 per cent pass rate in the primary school exit examination.
At the school's graduation ceremony on June 30, the graduating class of seven were presented with a variety of awards, honouring their hard work and accomplishments.
Kyle Bowens, the 2017 valedictorian, received awards for being the most outstanding student in Mathematics and Language Arts. Sheveisa Lewis received the award for being outstanding in Science and Jessica Edwards received the award for the Most Improved Student.
Ruth Woods, a representative from the Epitoma Foundation, presented awards to three of the graduates: Jessica Edwards for Most Improved Student; Chrsti Williams for being an Environmental Steward; and Anesia Hoyte for being the Performer of the Year.
The school also presented the second annual Caribbean Primary Exit Assessment (CPEA) Scholarship awards. These awards are presented yearly to the top three performers of FGS. This year's recipients are: Kyle Bowens – the Josephine Michael Award; Sheveisa Lewis – the Glenroy G Michael Award; Ozika Browne – the Anonymous Donor Award; Jessica Edwards – the Most Improved Student award.
In his address at the ceremony, head teacher Colbert Bowen advised the graduates to free their minds of all negatives and to think positively. He expressed his pride in the students' performance in the 2017 CPEA, they having achieved a 100 per cent success rate.
The ceremony was held at the Fancy Seventh Day Adventist Church and saw the graduation of seven students from the primary school and six from the pre-school.
"Look ahead, plan and prepare for challenges that may come your way. Avoid the negative influences and be wary of social media. Keep on a positive course; be focused; learn well," Bowens advised, concluding his address by thanking the staff for their hard work.
Also in attendance was parliamentary secretary in the Ministry of Education Deborah Charles, who encouraged the graduating class to believe in themselves.
Featured speaker Shevern Lewis-John, a teacher from the Sandy Bay Secondary School, advised the students not to let their past define them. "Move on to something better; free your minds from all negative thoughts; think positive for a brighter future," she urged the students.
A post-graduation luncheon was held at the school.(GHJ)