Posted on
10 lucky Digicel customers get VIP 'Slippery When Wet' experience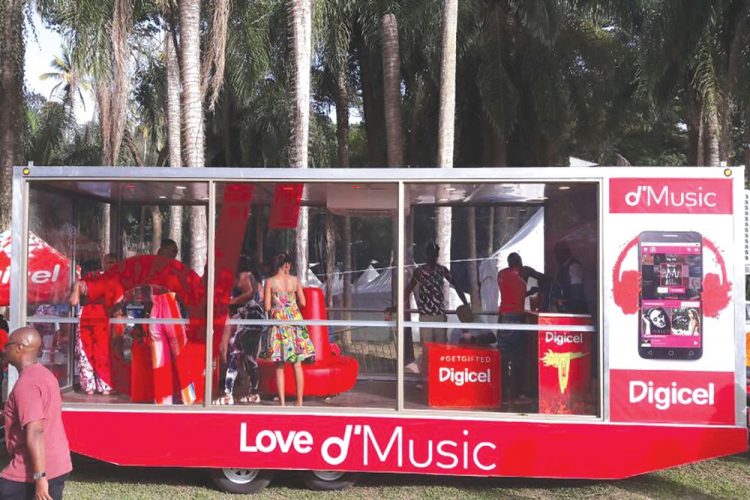 Widely known as one of the premium events on the calendar of activities for Vincy Mas year after year, Slippery When Wet 2017 was an experience like no other for a group of 10 lucky persons, who were treated to an ultra-premium experience, all compliments Digicel SVG.
By simply activating a Digicel Quick Pick bundle, the lucky customers received an entry into the company's Catch-the-Cash Carnival promotion, in which they each won a VIP Slippery Experience, in addition to Carnival costumes and cash. Jodeen Henry, Josean Samuel, Shanta Browne, Kypling Nedd and Fitzroy King were all excited to be a part of the experience, especially since they were each allowed to enjoy it with a friend.
As part of the package, the group was transported to Mt. Wynne on Carnival Sunday in a stunningly decked out and air-conditioned glass caravan, with entertainment and drinks being served all the way down to Slippery When Wet. While onboard also, the group was allowed first-hand experience with Digicel's newest product to be launched in the Vincentian market – d'Music, demonstrating how effortless it is for all Digicel customers to stream and download music from a catalogue of over 30 million songs via their smartphone or tablet for only $4.99 per week.
One of the lucky Digicel customers, Fitzroy King, said: "This was my first Slippery experience and it could not have been better." He added that spending $19.95 to activate a Quick Pick 5 was one of the best investments he could have made in his life, as he not only enjoyed five full days of unlimited talk, Facebook and WhatsApp messaging, but also got over $500 in value, having been given the opportunity to attend one of the best parties in Vincy Mas.
Digicel's Catch-the-Cash promotion saw some 100 customers winning cash, Temperature packs, Nelson Bloc costumes, Quick Pick bundles and d'Music vouchers over the three-week long promotional period.