Posted on
Rubis appreciates customers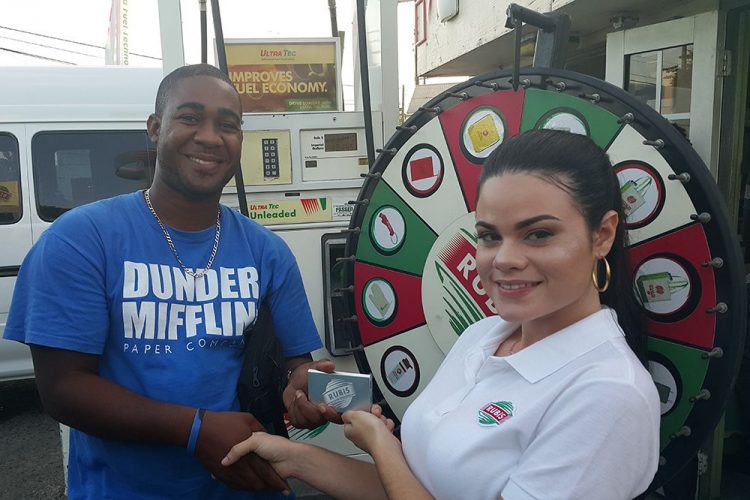 Last week, Rubis rolled out yet another of its customer appreciation activities, which saw customers winning exciting prizes, ranging from footballs, aprons, measuring cups, mugs, mittens, water bottles, cell phone holders, power banks, windshield visors, and many more.
The first stop was at the Questelles Service Station, where various customers stopped to fill their tanks and get in on the action of winning a prize from the 'Rubis wheel of delight'.
Speaking to a truck driver, he said that he was pleased when his mechanic made the recommendation to use Rubis products when servicing his truck one day, but within a week, he was experiencing an improved performance and since that day, he has never looked back.
One bus operator said that his bus works very hard transporting passengers to and from Kingstown, and the performance it gets from Rubis Ultra Tec Diesel makes it difficult for him to utilize any other fuel.
Then, on Friday, it was the turn of the patrons at the St Vincent Automotive Cooperative Society, who took full advantage of the promotional activity.
One customer, who won himself a power bank, said that it was not the value of the prizes which made him proud of the company. It was the thought behind the gesture of Rubis, appreciating its customers.
The fishermen from Rose Place who utilize Automotive Cooperative Service Station echoed the sentiments of others, in that they are very satisfied with Rubis.
The Rubis customer appreciation activity not only afforded customers the chance to win a prize, but to interact with the Rubis country representative Elroy Edwards, who happily spoke with them on various matters.
In speaking of the activities, Edwards said, "We at Rubis take pride in being innovative and creating value packed moments like these to delight our customers.
"The ability to have fun interaction with our customers, while they make their purchase, is always pleasing. This activity is one way to demonstrate to customers what being with Rubis means. It is also one way of saying 'thank you' to our customers for their loyalty."