Posted on
Rubis celebrates 100 years with 'Tantie Vie'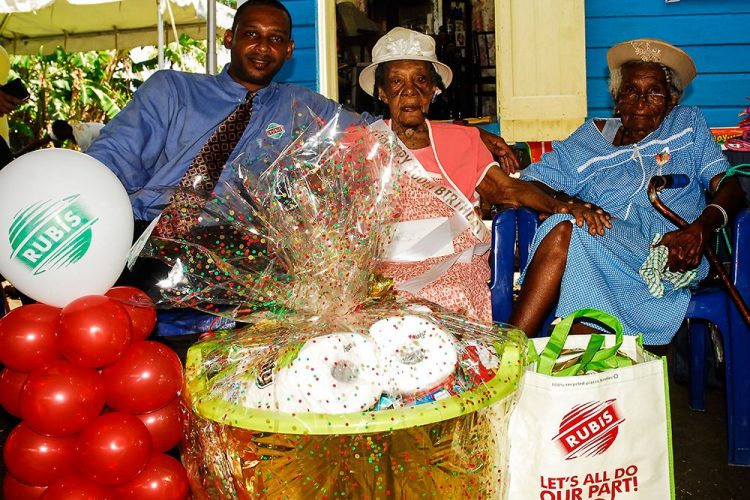 Rubis, a leading petroleum company in St Vincent and the Grenadines (SVG), last Friday paid tribute to Violet 'Tantie Vie' Cumberbatch, who turned 100 on June 23.
Elroy Edwards, country representative of Rubis, said when someone like Cumberbatch lives to celebrate 100 years, it is a significant occasion that should be appreciated.
"On the behalf of Rubis, I want to say congratulations to you on this amazing milestone. It is my prayer, that this day and the days and years to come, be filled with smiles, laughter, sunshine, and love," Edwards said, addressing Cumberbatch.
Violet Cumberbatch grew up planting cane, cassava, and cotton, and in later years, sweet potatoes.
"Nowadays, the people do not plant like we used to. They are building houses instead and not looking after the people health," she stated.
Despite her advanced years, Cumberbatch was still alert and spoke lovingly of two teachers (Jack and McKenzie) at the St Mary's Roman Catholic School in Kingstown, where she had her education. She said they taught her lessons in school that today help in understanding much of what goes on in the world.
Tantie Vie says she misses making hats and baskets from straw, which was a main hobby. She said she developed her hat and basket making skill after the Second World War, and with a sad look, said she hoped that the world will never experience something like that again.
She spoke of the way persons use to prepare their food and the reliance on the foods which were grown by them, saying "We use to eat simple, but the foods were well cooked. That is one of the reasons for living so long."
Tantie Vie's name is etched in the archives of Rubis, as she is the recipient of a food basket from the company every Christmas.
Edwards renewed the company's commitment to the elderly woman, stating, "We will continue to honour our corporate and social responsibility of not only touching her life, but others across St. Vincent and the Grenadines."
When asked if there was anything she would like to do before her Creator called on her to go home, Tantie Vie, with a twinkle in her eye said, "I want to continue to praise him."