Posted on
Ragga Soca, Soca cast set for finals clash at Victoria Park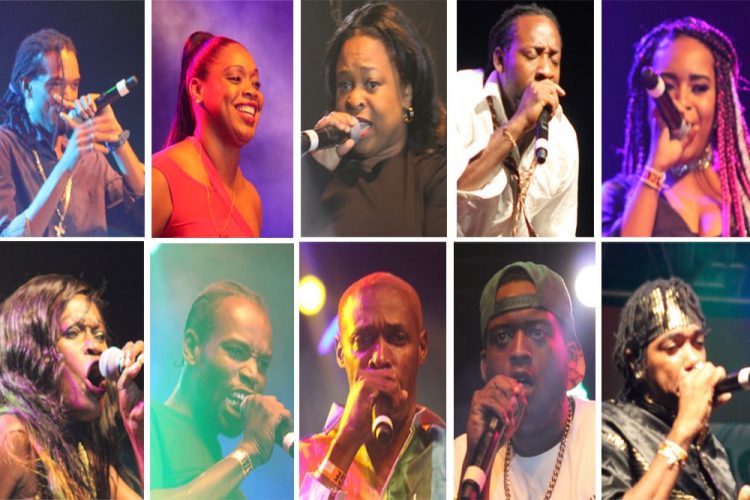 From Saturday evening, into the early hours of Sunday morning, 50 artistes performed for four minutes each, without the use of props, in an effort to secure a spot in the finals on July 8 at the Victoria Park.
The competition took place on the tarmac of the former ET Joshua Airport, in a show dubbed 'Boarding Pass'.
In the Ragga Soca competition, veteran soca artiste Delroy 'Fireman' Hooper and newcomer Kalid 'Kaviedes' Walters rocked the crowd during the rendition of their hit groovy song "All Day".
Many patrons had their hearts in their hands when nine-month-pregnant Keronna 'Keke' Samuel took the stage and gave an energetic performance.
Thirteen-year-old newcomer M'riah 'Young Siah' Robertson, though young, kept the crowd moving with her song "We on the Road."
When the results were announced, it was Cleopatra Hendrickson, Allaji 'Alla-G' James, Devonte Peters & Utamu Rose (Prime Time), Jamarlie 'L Pank' Stapleton, Keronna 'Keke' Samuel, Nickeisha 'Nikky D Diva' Pierre, Kalid 'Kaviedes' Walters featuring Delroy 'Fireman' Hooper, Shernelle 'Skarpyon' Williams, Shaunelle Mc Kenzie, Lornette 'Fya Empress' Nedd and Hance John who will go through to try to dethrone reigning Ragga Soca Monarch champion Chewalee Johnson.
In the Soca segment of the competition, crowd favourite Keith 'Grabba Finnesse' Charles got the crowd moving during the soca semi-finals, with his song "Madness".
Ryan 'Royal' Abraham sent the crowd into a frenzy with his performance of his popular song "Upfull".
Veteran soca artiste and eight-time Soca Monarch winner Delroy 'Fireman' Hooper had the crowd l Continued from Page 4
going wild during his performance of "Wild", while Hance John showed his vocal prowess while performing his soca hit "Jab".
The finalists in the Soca competition are Keith 'Grabba Finnesse' Charles, Delroy 'Fireman' Hooper, Ryan 'Royal' Abraham, Lornette 'Fya Empress' Nedd, Hance John, Shanel Nanton, Travis 'Wizskid' Lynch, Kenroy 'Rus-T' Baptiste, Jamarie 'L Pank' Stapleton, Alhaji 'Alla-G' James, Leslie 'Flanka' Chapman and Naphtali Duncan, who will try to dethrone reignign Soca Monarch Shane 'Hypa 4000' Husbands.(CM)