Posted on
'Shop Brave' this Carnival at Courts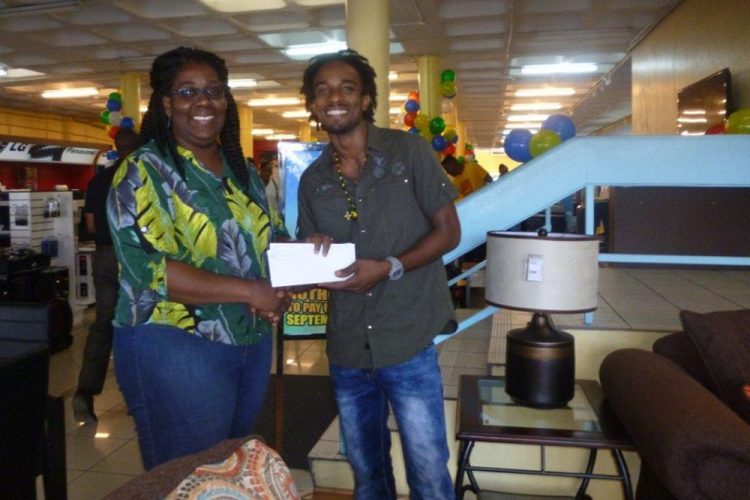 From June 9 – July 8, Furniture/Electrical/Optical Superstore Courts will feature, as the face of their Carnival Campaign, Joel "Dynamite" Tyril, with his hit song "BRAVE".
The young artiste was really humbled by the experience and expressed praise for the opportunity to be Courts' newest ambassador.
Every year the company scouts for an upcoming artiste who can best fit the image and message of their brand. "We know we made the right choice with this song and with Joel… his musical talent and attitude will be the principles that will help him to succeed. Not only is Courts pleased, but, as Vincentians, we haven't seen the full potential and impact that this song can make. We wish him all the best, as he continues to rise in this industry," commercial officer Lisa Veira stated.
As part of the Carnival promotion, customers spending over $599 will get chances to win a total of four costumes in various sections of Party Nation – the newest band for Vincy Mas 2017. The first winner is Desrenique Morris of Georgetown.
There are also vouchers redeemable at Bamboo Spa, where three lucky customers will win a "Spa treatment for two", compliments Lensyl. To be eligible, customers must purchase any Lensyl branded product. Rhesa Jack Shallow of Carapan is the first winner.
Six-week promotion.
Customers shopping at Courts Optical are not left out – buy any coloured clarity contact lenses and get the second pair at half off. The company continues to offer free eye testing and the option to take up to 24 months to pay for your glasses/sunshades.
There are also a number of great deals in store to satisfy every customer… so SHOP BRAVE… SAVE BRAVE at Courts!!!