Posted on
Digicel customers to win big this Carnival season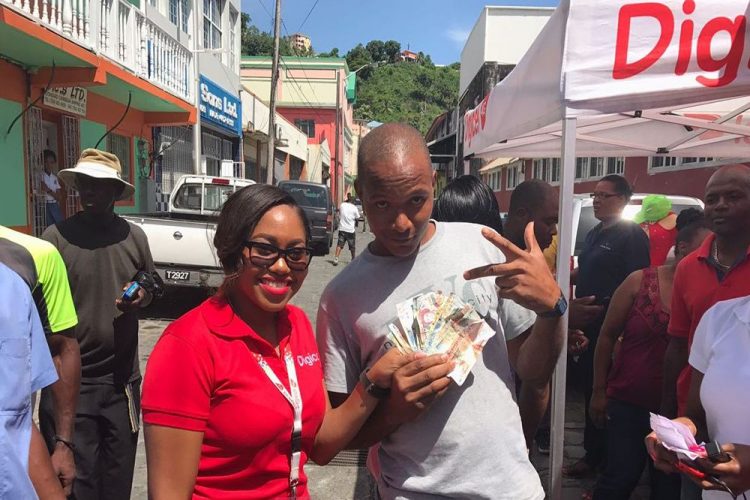 For everyone who has ever dreamt of an opportunity to grab as much cash as they can, Digicel is giving customers a chance to make that dream a reality in its newly-launched "Catch the Cash" promotion.
Twenty seconds was all a group of lucky customers needed last Friday, as they entered the vault and came out smiling with wads of cash and Digicel credit vouchers. They had earlier activated a Quick Pick bundle on spot in order to get in on the action.
The excitement was part of activities to officially launch Digicel's Carnival campaign outside its main office in Kingstown, and held in front of a large number of customers.
The promotion runs until July 7 and will see Digicel customers being randomly selected to enter the vault each Friday to win cash and vouchers for other prizes, including: temperature packs, Nelson Bloc costumes, free Quick Pick bundles, d'Music plans and Slippery When Wet VIP Experience passes.
Right on the beat of the Catch the Cash Carnival promotion is the official introduction of d'Music to St Vincent and the Grenadines, giving Digicel customers the opportunity to stream and download from a catalogue of over 20 million songs via their smartphone or tablet for only $4.99 per week.
Marketing manager for Digicel SVG Danielle Cupid said, "We're sharing the spirit of Carnival with our customers by giving as many of them the opportunity to get cash, amazing VIP experiences, plus free data, talk and WhatsApp messaging with Quick Pick bundles. Plus, their d'Music subscription will keep them rocking all season."