Posted on
Student wins big with FLOW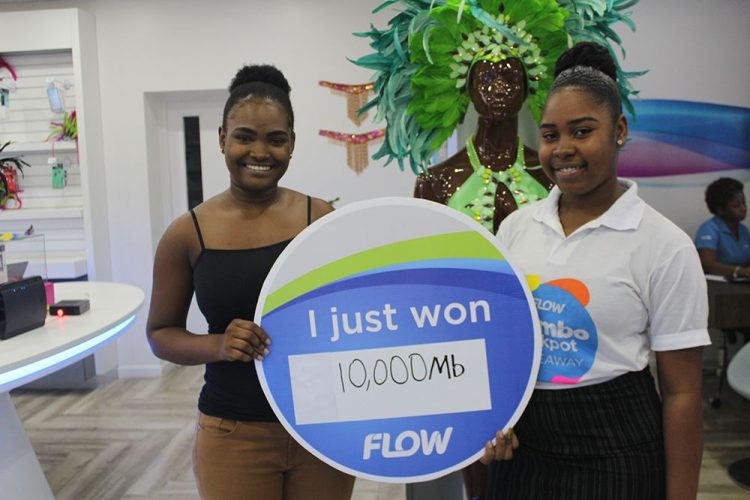 Thanks to FLOW, student Wallicia Browne is now more equipped to do research via the Internet.
Browne is just one of a huge number of customers of the telecommunications service provider who have so far benefitted from "Go limitless with FLOW for Carnival," the company's 2017 Carnival promotion.
On Saturday, June 3, the Georgetown resident, who is a St Vincent and the Grenadines Community College (SVGCC) Division of Technical and Vocational Education culinary arts student, was awarded with 10,000 megabytes per second of data.
She was gifted with her huge data package during a brief ceremony at FLOW's Halifax Street Retail Store and according to her, "This data package is doing a lot for me".
Browne said that she has been a FLOW customer for about two years now and she constantly puts data plans on her phone. This simple task gave her a winning chance in the "Go limitless with FLOW for Carnival" promotion.
"This is a great service. I do a lot of research on the culinary arts and I have been using my data for this," said Browne.
The 2017 promotion is centred around cellular phones, FLOW's products and services and allows persons to win daily and weekly prizes. There will also be a grand prize draw for EC$10,000.
Prizes include 10,000 minutes of talk time, 10,000 megabytes of data, a trip for two to Soca on the Hill in Barbados, Carnival Monday Band packs, Ahdrenalin Mas Bands costumes, Carnival show tickets and smartphones.
To be eligible to win prizes, customers must do, among other things, top up EC$15 or more, text "Carnival" to "8627" or sign up for any new plan or service.  
Since the promotion began, persons have been rewarded with FLOW Monday band packages, credit, Carnival show tickets and cash, among other things.