Posted on
Education Minibus Operators day was a success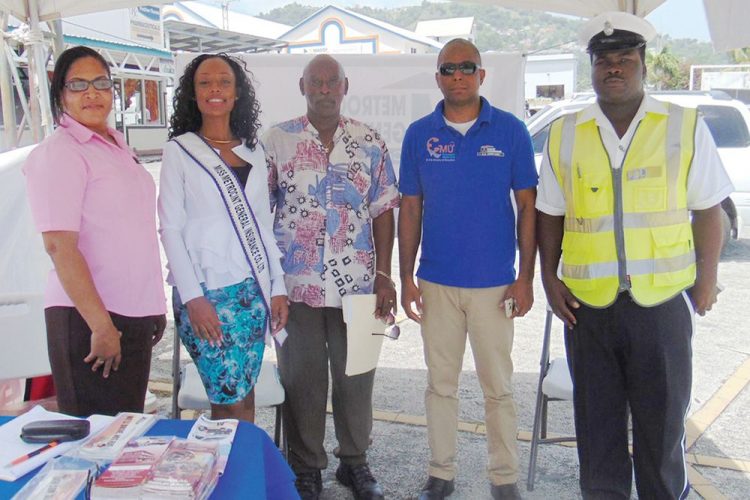 The Ministry of Education's Minibus Operators Day was a success, as education officials got the opportunity to interact with several of the nation's van men.
Last week, Thursday, May 25, Ministry of Education officials manned strategically placed booths at several locations throughout the island, where minibus operators were encouraged to stop to collect specially made stickers, talk with ministry officials and be treated with drinks and snacks.
Permanent Secretary in the Ministry of Education Morine Williams said that the day was designed so that they could reach out to the minibus operators.
She said that this is the first time that something like this has been done, as the Ministry tries to reach out and improve the service provided by the public transport operators.
"We are quite aware that there has been a lot of issues surrounding minibuses… we are not the Ministry of Transport, but we are the Ministry of Education; the minibus operators take our students and teachers to school, so we must admit that they are a very vital part of our society. They provide a very vital service to our students," commented Williams.
She explained that for the past four years, the Ministry of Education managed to roll out a new initiative called Child-Friendly Schools, where the aim is to provide children with a friendly environment in all the child's spaces (school, home, church, community etc), so the minibus has been added as one of these child friendly spaces.
The initiative was carried out with funding from UNICEF and Williams said that the Ministry sees this as part of their Child Friendly School initiative. The Child-Friendly Schools' manual was developed during three-and-a-half years of continuous work by UNICEF and other agencies.
She said that the Minibus Operators Day is an attempt to reach out to the minibus operators, "to say, partner with us to help to provide this type of environment, because your role is crucial".
Williams said that her ministry wants to have a continuing conversation with the minibus drivers and therefore create a relationship, because the role of the Ministry of Education, National Reconciliation and Ecclesiastical Affairs is to educate, so that van drivers will get information that will enable them to change behaviours.
Last week Thursday, booths were set up at the Peace Memorial Hall bus stop, Massy Stores Arnos Vale bus stop (sponsored by FLOW), Girls' High School (GHS) bus stop (sponsored by Coreas Hazells Inc), Geest Shed bus stop (sponsored by Century Insurance), Massy Stores Stoney Grounds (sponsored by Metrocint General Insurance Company), Howards Marine bus stop (sponsored by Star Garage) and the bus stop in Arnos Vale opposite Karibbean Tyres (sponsored by One St Vincent Limited).
The booths were at those locations from 9 a.m. to 3 p.m. and saw several van drivers stopping and receiving information on safe driving, as well as stickers which the Ministry dubbed "the voices of children". The stickers read, "Keep us safe today" and "This is a safe place".
Degra Michael of the Minibus Operators Day planning committee told SEARCHLIGHT that the day went well and the ministry is looking at doing follow-up training with the bus drivers that will help them deal with students, while creating positive child friendly spaces on their minibuses.
The day was held under the theme, "Keep us safe today as we go on our way".