Posted on
Cruise Line officials want SVG to show its uniqueness to tourists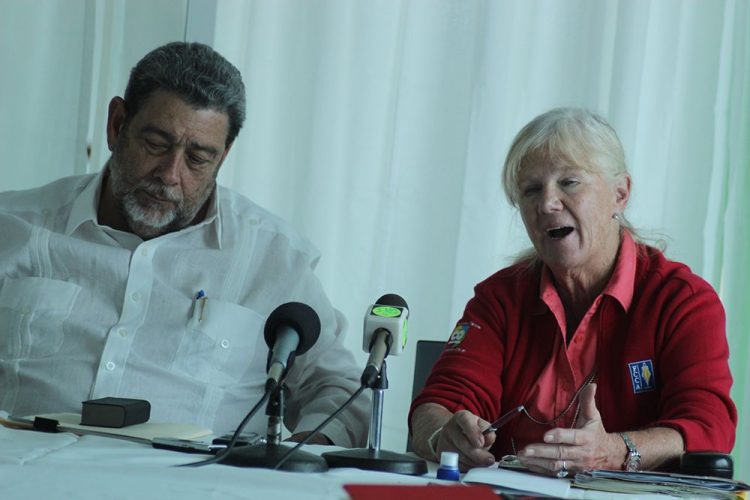 If St Vincent and the Grenadines (SVG) wants to attract cruise lines like Carnival and Disney, the country must show its uniqueness.
That advice was given to Prime Minister Dr Ralph Gonsalves at the Argyle International Airport (AIA) on Wednesday, during a meeting with president of the Florida-Caribbean Cruise Association (FCCA) Michele Paige and cruise line executives from Royal Caribbean International, Carnival and Disney.
Paige, who described PM Gonsalves as "a secret weapon" in the country's tourism arsenal, said that tourism can fuel the economic engine of the country, but SVG must be able to show cruise ship passengers and crew members what sets the country apart from other destinations.
She said that Gonsalves is leading the way with several innovative ideas and that should set the stage for locals to look at cruise tourism as something that can develop the economy.
"It's about incentivizing the people. You have it all; you have a story to tell, but it's about incentivizing the people to do a better job to elevate the product, so you become a demand destination," stressed Paige.
The FCCA president said that having a niche is one of the main driving factors behind a successful cruise tourism product, because passengers and crew will spend money if there are things for them to spend money on.
"…So right now, what people are spending in St Vincent and the Grenadines is low, so that means that what the cruise lines are making is low, so that's why we have to elevate the product and have more opportunities, shore excursions, opportunity for the culinary experience, opportunity for shopping…," explained Paige.
The cruise expert said that providing these things does not mean that you want to be a country like "St Thomas", but what it means is that you want to be "St Vincent" and not sell things that are made in China.
She said persons must promote the island by selling things that are produced here and all of that is the experience tourists are seeking.
In one of his suggestions, PM Gonsalves spoke about a unique tour, where he will open his official residence in Old Montrose to tourists and even mingle and take photos with them. He also spoke about going with tourists in a tour bus and conducting part of the tour by speaking about caves on the northeast of the island and about the history of the island.
In response, Paige commented, "when he (Gonsalves) speaks about bringing people to his residence, that is something that doesn't happen anywhere else. It's providing those experiences that say St Vincent…".
The experienced Paige noted that while this country has wonderful beaches, so do other places.
"…Beaches, that's a wonderful claim to fame, but what says St Vincent? What sets you apart that you can't do anywhere else? What are your culinary experiences? Where are the people that make bread that are different, candy that are different… I just heard about the unique SVG candy; bring it to the forefront; that's part of the experience and part of what is going to put the wow into the experience; that is what is going to elevate the product," explained the FCCA head.
She said that every person on the island must understand that they are playing a part in educating tourists about what is unique and different and sets SVG apart.
Paige said that when tourists come to a country, they want to know about the history of that country, the stories about the country and they want to understand and take a little bit of knowledge back with them.
She stressed it is important that persons involved in the tourism sector know their role, as they play an important part in getting the passengers and crew to spend money.
"Crew members come ashore for food and beverages; they want to have services. Let's look at a new beginning to set St Vincent as a demand destination. One of the initiatives the Prime Minister put on the table is to have ships year-round to be able to come, especially during the summer. Let's look at it, what creates the demand that St Vincent is the destination that those passengers want to come to?"
Paige stressed that the cruise companies are going to bring the ships to where people want to go and when SVG elevates its product, that is going to create the economic engine to have the ships here regularly.
She also mentioned that cruise lines create employment opportunities and currently, over 1,300 people from SVG are employed in the cruise industry.
She said that the FCCA is here to work with SVG to help create whatever positive opportunities they can.
Also present at the meeting were, director of Ports of Call and Government Relations Carnival Cruise Line Leon Sutcliffe, associate vice-president Government Relations for Royal Caribbean International Frederico Gonzalez-Denton, executive director, Marine and Port Operations, Port Developments and Itinerary Planning for Disney Cruise Lines Russell Daya; Minister of Tourism Cecil 'Ces' McKie, chief executive officer (CEO) SVG Tourism Authority Glen Beache, Permanent Secretary Ministry of National Security Godfred Pompey, CEO of the St Vincent Port Authority Bishen John, chair of the Port Authority Clayton Burgin, CEO of Coreas Hazells Limited Joel Providence and marketing officer Cruise and Yachting at the Port Authority Nicole GunMunro.